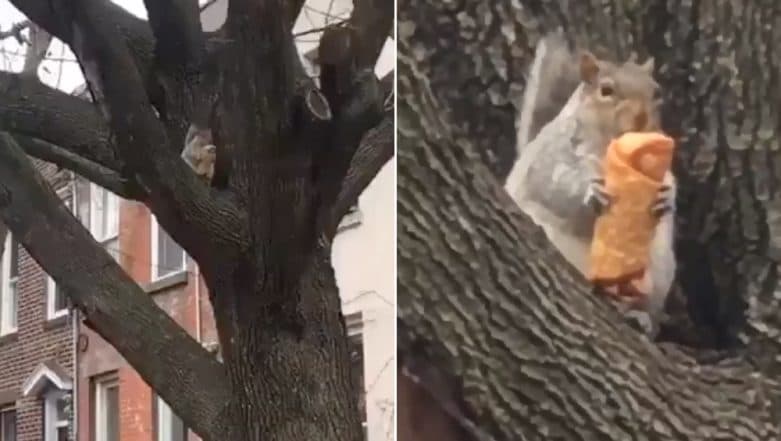 The internet is a fascinating place for everyone. Whatever your interest, you will always find something related, serious or funny here. If you love animal videos than there are plenty of them and every day something new comes up. Now a squirrel eating an egg-roll is becoming viral on social media. A small clip shows a squirrel sitting on a tree and enjoying an egg roll with much comfort. The egg roll is just a little smaller than the squirrel's size, but it nibbles on it so well, that even the internet is amusing at it. 2-Foot Tall Squirrels Caught on Camera in North Carolina, View Pic of Fox Squirrel.
A Twitter account called WhatIsNewYork shared a small video clip which shows a squirrel delightfully enjoying an egg-roll. In the caption, he wrote, "Doesn't look like this squirrels first egg roll." The folks on social media were quick to join in and the video kept on getting more and more views and funny comments. Baby Squirrel Taken into Police Custody After Chasing a Man in Germany.
Check Video of Squirrel Eating an Egg Roll in New York
Doesn't look like this squirrels first egg roll #whatisnewyork pic.twitter.com/Heo30oe8w3

— WhatIsNewYork (@whatisny) January 2, 2019
This video has got over 35,000 views. And people have made some funny comments.
Living the best life
That squirrel is living his best life

— Career-Obsessed Banshee (@edenwillow) January 3, 2019
But where is the sauce?
Forgot the sauce.

— Stacey Ford (@Miss_Kitty52) January 3, 2019
Menu decoding
His first choice was the hot-and-sour soup, but that was too messy to eat up a tree...

— Mark Frankel (@Mark_this) January 3, 2019
Haha!
I think I got as fat as that squirrel over the holidays

— Caroline McCarthy (@caro) January 3, 2019
Hungry again
He'll be hungry again in an hour.

— Darrell San (@Darrell_San) January 2, 2019
Well, the squirrel sure provided some entertainment for few people and while it may have comfortably digested its egg-roll, people online were also speculating how it must have sneaked the roll.