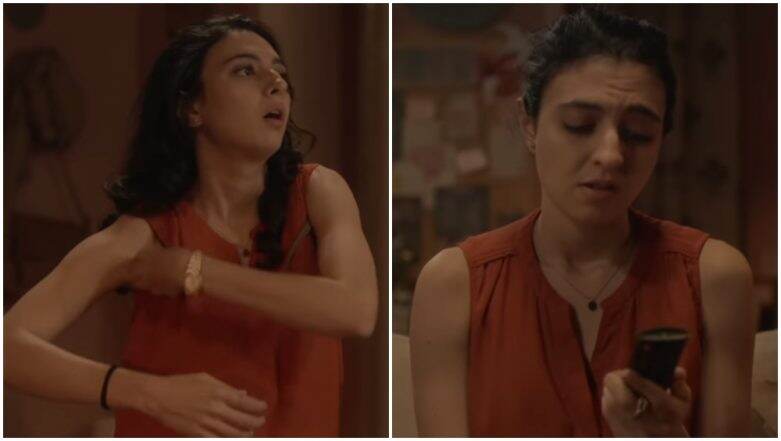 Food-delivery app Swiggy has started new service, Swiggy Stores that delivers groceries at the doorstep. As they extend their existing network, the startup came up with ads promoting their offline stores. And one of the commercials has gone viral on social media with people praising the content. The ad showcases a relatable situation which almost every woman experiences in her daily life. It shows a young woman entering her home, presumably after a long day at work. Even before dropping to the couch, she takes off her bra and looks quite contended as she tries to watch the TV.  Food From North India to South India: Bengaluru Customer's Swiggy Order Showed Delivery From Rajasthan in 12 Mins, Check Funny Tweets.
But now she can't switch on the TV as the batteries of the remote have drained out. She wants to buy new cells, but for that, she has to go out and hence wear the bra again. What follows is how Swiggy comes to her rescue with their new grocery delivery system thus saving from having to wear the bra and leave the house all over again. The ad was quick to viral with women saying how they go through the same scenarios almost every day.
Watch the ad here:
They came up with a series of ads promoting Swiggy Stores with most being praised for coming up with real-life situations.
Check out the tweet below:
I think these guys @swiggy_in do an amazing job.#swiggystores https://t.co/Sdl5uB4v2a

— Phani Kishan A (@phanikishan) April 8, 2019
Thumbs Up!
Hey @swiggy_in proud of you guys for doing this. Great insight ( I guess 😀) and wonderfully executed. Ignore all the spam that you get on sabhyata and sanskriti! https://t.co/n58rcZRQ4H

— Sachin Kataria (@sachin2528) April 9, 2019
Everyone seems to have gone through the same
— 🌻 (@lhakme) April 10, 2019
Here is another one:
Some of the ads show how their service saves people from real-life embarrassment situations.
Watch another one here:
Here is the fourth ad:
The Bengaluru-headquartered firm has about 125,000 active delivery partners. Swiggy started off with their new service in Gurugram for the time being. They deliver products from over 3,500 stores. The app seems to try to be on the way to become the one-stop for food and grocery items.