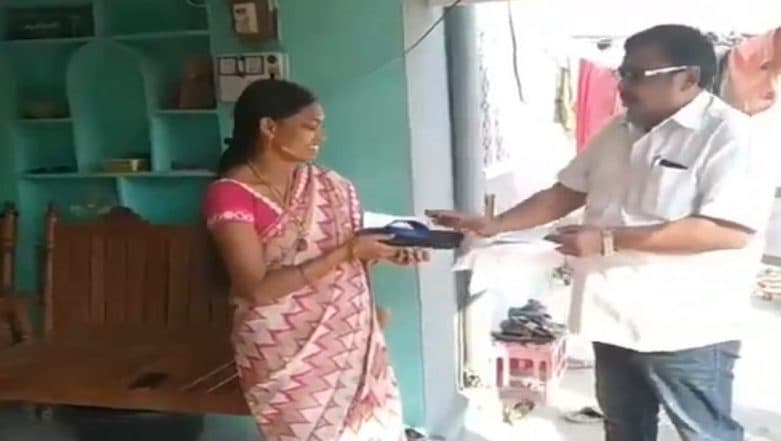 Hyderabad, November 22: An independent candidate in poll-bound Telangana is distributing slipper to voters during his campaign. The video of Akula Hanumanth's unique campaign has gone viral on social media. While handing out slipper, Hanumanth is telling people to hit him with the same floaters if he fails to deliver after winning the election.
In the video, Akula Hanumanth, who is contesting from Korutla constituency of Jagtial district in Telangana, is seen distributing slippers promising development. "If I don't work after winning, you can hit me with the slipper," the independent candidate is heard saying in the video while holding a door-to-door campaign in Mettuppalli town. Congress Seeks Removal of 'Pink' Ballot Papers As the Colour Is Associated With TRS.
Hanumanth tells people that he will resign if he fails to fulfil the promises he is making. He says the voters will have a right to publicly hit him with slippers if he did not work properly. The Korutla seat is currently held by the ruling Telangana Rashtra Samithi's senior leader and MLA K Vidyasagar Rao.
Poll bound #Telangana while witnessing a high decibel campaign, an independent candidate of Korutla constituency has got all attention because of his unique electioneering. He is distributing slipper to voters and promising 'hit me with slipper if I fail to perform' pic.twitter.com/z5PYBF5mic

— Aashish (@Ashi_IndiaToday) November 22, 2018
On September 6, Telangana Governor ESL Narasimhan had dissolved the state assembly following a recommendation from the K Chandrashekhar Rao-led cabinet. The Governor, however, asked Rao to continue as caretaker Chief Minister until the new government was formed. On October 6, the Election Commission announced the date for polls in the state.
Telangana will go to polls on December 7, while counting of votes will take place on December 11.