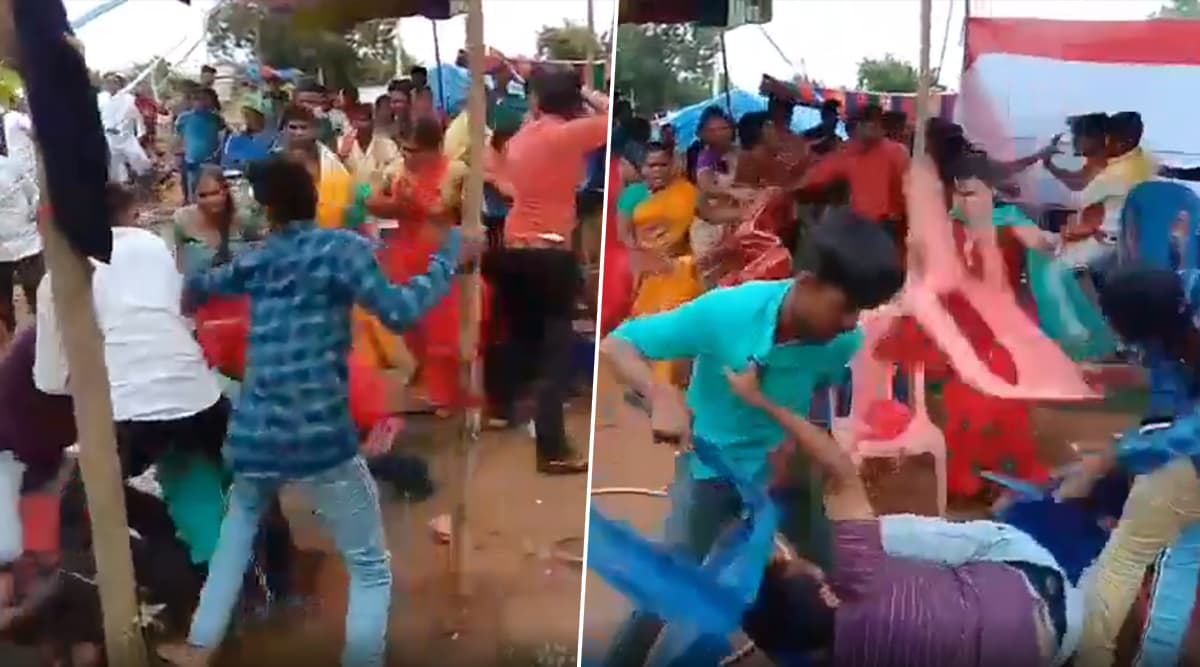 A wedding ceremony is supposed to be one of the most exciting days at least for the bride and groom. There are a variety of emotions attached to one's wedding ceremony. But in Telangana's Suryapet district, things certainly did not go as planned with the wedding guests ending up getting violent over a trivial reason. A shocking video has been shared online which shows people thrashing each other with chairs at a wedding mandap. The fight took place over the playing of DJ music during the procession! While the groom's side wanted a DJ, the bride's side refused. This refusal turned murky and the happiness was completely taken over by fury leaving three people injured. The video is quite scary and is going viral. Watch Video: Delhi Wedding Turns Into WWE Match, Fight Erupts Over Quality of Food.
The incident took place on October 29 but the video has surfaced online. It shows the ugly fight between the bride and groom's families who ended up severely beat up each other. The incident took place in Kodad region of Suryapet. According to reports in ANI, Shiva Ram Reddy, Circle Inspector, Kodad Rural Police Station informed that the fight took place over taking out marriage procession in the village. The playing of DJ music during the procession turned into a big argument as the bride's side said it was too late and the DJ had to leave. This Viral Video From Indian Wedding Will Make You Go 'WTF!'
Watch The Video Here:
The police were called in and three people had to be admitted to the local hospital for minor injuries. The police also asked them to lodge a police complaint against the family members. But to much surprise, both the bride and the groom came to the police station with no complaints and said they had resolved the issue amicably! "On Friday they came to the police station and said the couple are having no issues and are living together and they said they don't want to register a complaint because they sought the issue themselves," mentioned Reddy. Kerala Groom Chooses Football Match Over Marriage Ceremony, Asks Bride, 'Can You Excuse Me For 5 Minutes?'
This is not the first time, a wedding has turned so ugly over trivial issues. In Telangana itself, a wedding feast turned into a fight over the choice of meat. The groom's family was served chicken but they were expecting mutton. This reason escalated into a huge fight turning violent with chairs thrown at each other.