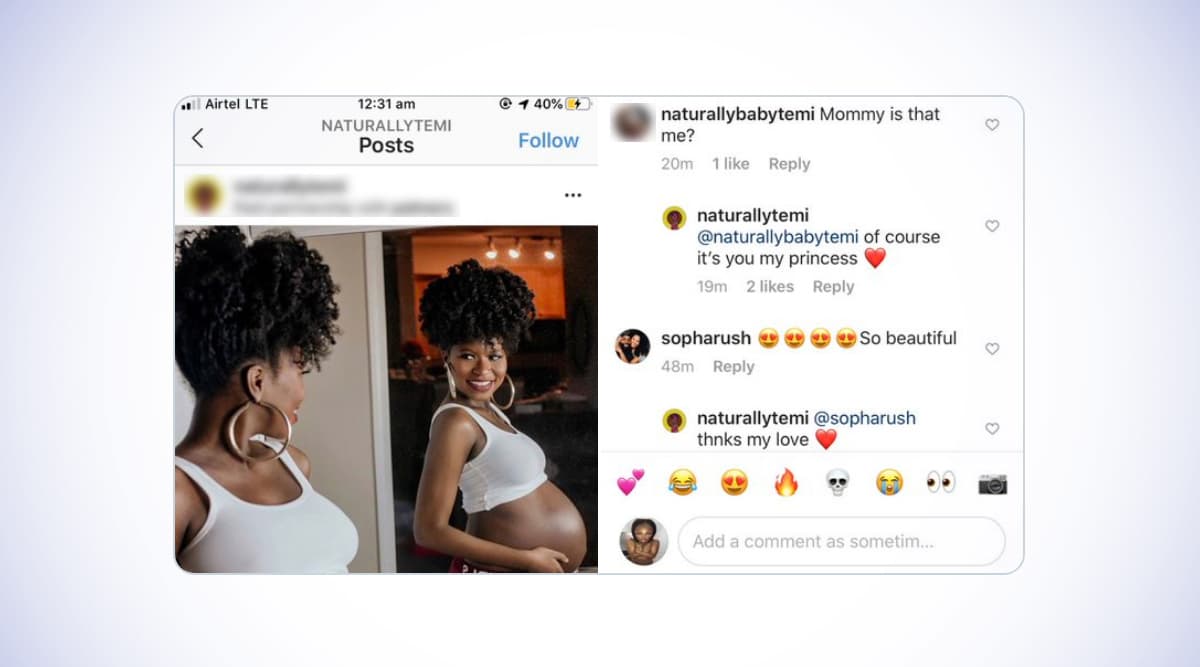 Haven't you even for once wondered, "Why do Instagram influencers go overboard?"? Well, if you haven't, this one influencer will change your mind. So, there is an Instagram influencer that hasn't even been born yet. Ya! The fetus who is still in the womb clueless about what he/she has in store outside, already has presence made on Instagram by their parents. A picture going viral on Twitter, is a screengrab of the Instagram page that features one of the posts, where she is posting on behalf of her unborn child and, netizens can't take it anymore. The viral tweet captioned the post with: "This influencer is pregnant now she's talking to herself through her unborn child's Instagram." Her unborn baby's page goes by the handle name, @Naturallybabytemi.
The mother is a "Beauty and Fashion Influencer" on Instagram and her account goes by the name @naturallytemi. She describes herself as a "Natural Hair Enthusiast" from Charlotte, North Carolina. In one of the very first post on her unborn baby's Instagram page, the caption read: "Blessed ☺️. When mommy announced me to the world. I love her so much."
Check Post:
Take a look at some of the best reactions:
Tell me social media isn't an illness pic.twitter.com/Enf3tCo0OB

— adenike (@sometimesnike) December 29, 2019
She Snapped
— P (@sedsaidso_) December 30, 2019
This Can Be a Meme
This is sending me pic.twitter.com/gI0WgKsN49

— it's upsetting me and my homegirl (@BettyThinks) December 30, 2019
LOL
This is literally the episode where the husband was supposed to return the rental and he dies, but then she finds out she's pregnant and fsiofaypgdyzpyspysppysp!!!!

— Kēnna (@JacobVisions) December 30, 2019
True?
And if you suggest therapy you're a bully

— Demi Grace (@IamDemiGrace) December 30, 2019
The woman is being trolled for talking to herself and playing both the parts, one of the unborn child's and the other of herself. She has been legit talking to herself in the comments and netizens cannot help but troll her.