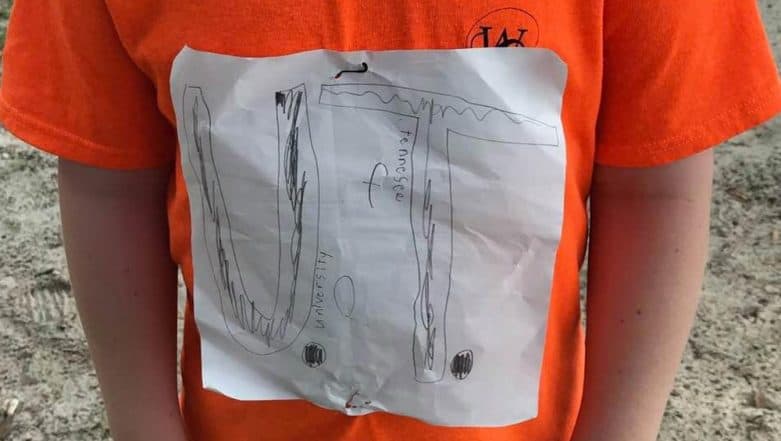 It is a priceless moment for the Florida kid. Who knew his aspirations to study at the reputed University of Tennessee this way! The unidentified fourth-grader whose UT school t-shirt design went crazy viral, has now got four years of scholarship to study at the university. He surely could not be happier. The kid's spirit has won the hearts of many online and so the attention of UT. The university in a press release confirmed that it had awarded a four-year scholarship to the bullied kid to join the Class of 2032. If he is willing to accept the honourable offer, the kid has been asked to meet the admission requirements. University of Tennessee Aspirant Was Bullied for His UT DIY T-shirt, Now His Drawing Is an Official School Logo. 
Announced in a press release, the University of Tennessee stated, "In recognition of the fourth-grader's Volunteer spirit, the university has extended an offer of admission for him to join the Class of 2032. In addition, he has been awarded a four-year scholarship covering his tuition and fees beginning fall 2028 should he decide to attend UT and meet admission requirements." The University further noted that the officials have spoken to the young boy's mother and she has expressed gratitude to UT and the overwhelming outpour of love for her son.
The University even credited its alumni, followers and volunteers who stepped up in response to the Florida kid's story. The young boy from Altamonte Elementary School wanted to participate at "College Colors Day" in which students are asked to dress and represent their favourite college or university.
Since the kid did not own any official attire, he made his own UT logo on a piece of paper. However, the aspirant became a victim of bullying. The student's teacher, explained the entire incident on Facebook, which gained a massive response. It even caught the attention of UT who at first sent a personalised care package of school supplies, then made his cute drawing the school's official logo and now offered a four-year scholarship. It is the best way; any university could treat its aspirant across the world.