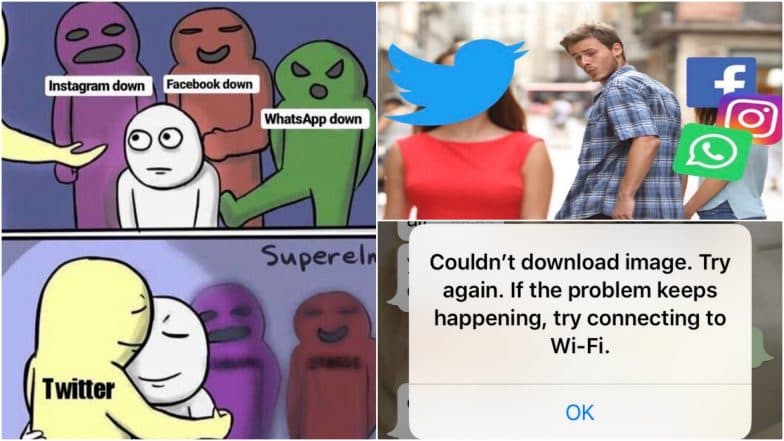 Netizens seem to be going crazy as all forms of social media platforms are not responding. WhatsApp and Instagram seem to be facing technical glitches and its a buzz on Twitter. While messages are being sent and received over WhatsApp, users are facing a problem in downloading messages. The same goes for Instagram, where images and stories are not visible and a retry sign is showing everywhere. Users reactions are seen on Twitter and people seem to be pretty annoyed with the blackout of these Facebook-owned applications. The error message reads, "Can't download. Please ask that it be resent to you." WhatsApp, Facebook, Instagram Apps Down, Users Unable to Share or Download Photos.
WhatsApp is nowadays the go-to medium for conversations today and some people even operate their business through the application. The same goes for Instagram. While Instagram is primarily a photo sharing application, the photos are not getting downloaded, which is also annoying. This is not the first time the application has crashed and it is unclear what's the issue. So a lot of users have taken to microblogging platform Twitter to talk about it. While some users are angry, other have rather funny reactions to the blackout. Check how users on Twitter are reacting to social media applications not working properly.
Pull out the gun!
Suddenly can't download photos on WhatsApp i- pic.twitter.com/FI0v4UTG6b

— dee (@deemohd_) July 3, 2019
What's the Issue?
Is #WhatsAppdown? I'm unable to download images and videos on whatsapp. It says this.

And seems like #TwitterDown as well🤔 #twitter DMs are acting up😕 pic.twitter.com/WxdgUQtc7i

— . (@Skmaniac) July 3, 2019
An exact representation of some offices right now
Images and audio download on all #facebook platforms including #WhatsApp and #Instagram are currently down

Digital media managers: pic.twitter.com/te4sniLa2y

— ActualKay (@ActualKay) July 3, 2019
How People feel without social media
#WhatsApp down couldn't able to download videos and images 😂😂😂

People be like now😂😂 pic.twitter.com/QLRpARbQdt

— Bharath Kumar (@Bharathsiva19) July 3, 2019
It is still unclear what has caused an outage but meanwhile, people seem to be enjoying their time on Twitter. Hopefully, the applications should restore in a bit and with a proper explanation of what caused the glitch. If you are facing an issue, all you can do is wait till it is worked upon and restored.