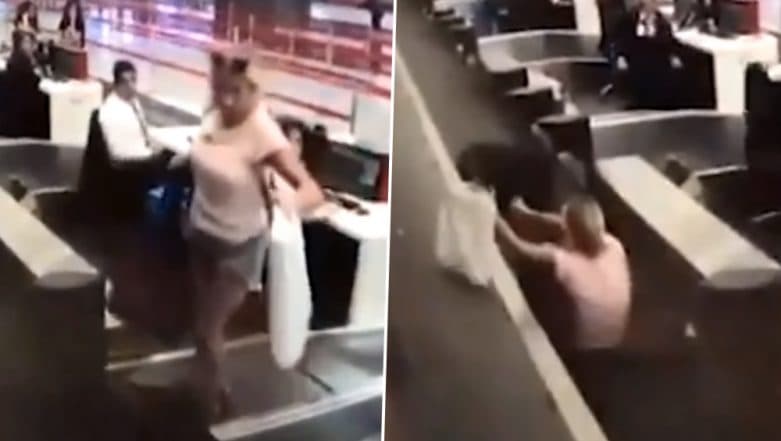 We can totally understand things at the airport whether it is a security check, getting your boarding pass and your luggage scanned or even boarding the flight can get confusing because airport indeed is a stressful place. This video of one woman getting on the conveyor belt which is usually meant for luggage, going viral on the internet is one such example. The woman who is said to have been boarding her flight from Turkey is seen hopping on a luggage conveyor belt because she thought it would take her to the plane. She reportedly was a first-time flyer who after getting her baggage checked-in at Istanbul airport chose to hop on the conveyor belt while attendants and other passengers just looked at her. In the video, you can see that the woman got on the conveyor belt (wondering why nobody stopped her right at the moment she hopped on) and after it moved a bit, till the place there comes a turn on the conveyor belt she fell, it is at that time when the crew got in action and stopped the conveyor belt before going to help her out. Pakistani Woman Opens Emergency Exit Door Thinking It's the Toilet; PIA Flight Deboarded, Delayed As Aircraft's Air Chute Bag Opens. 
Take a look at the video:
People cannot stop cracking jokes about the video. However, first-time flyers getting things wrong isn't an uncommon case. Especially people getting onto conveyor belts and luggage scanner, thinking the machine is meant to scan them as well is quite common. Child Sneaks Into X-Ray Baggage Scanner at China Railway Station (Watch Shocking Video.)
Here's a Pakistani man who jumped on and travelled through an x-ray Baggage Scanner. Take a look at the video:
Another woman who passed through an X-ray machine at a railway station in China went viral some time back. Check out:
The new Istanbul Airport is the main international airport serving Istanbul, Turkey has opened recently in the month of April, 2019. However, do you think there should be a team at every airport to handle first-time flyers understand the rules of boarding and flying on a flight? I guess that will take care of a lot of such mishaps, what say?