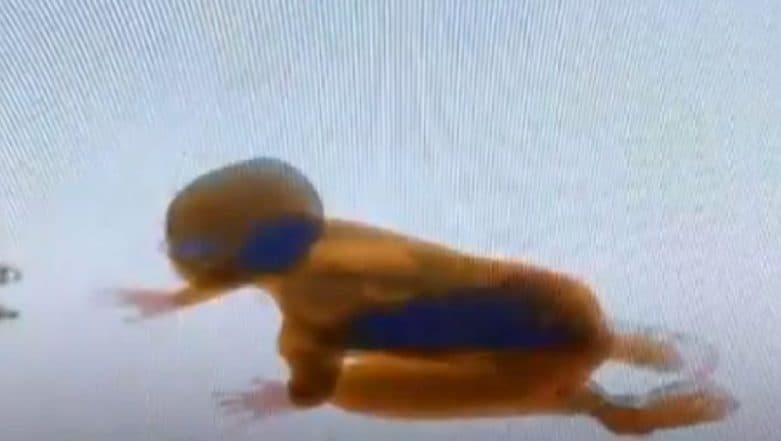 In a recent shocking incident, a child was seen inside the x-ray machine in the security check. We can only imagine what the security personnel must have gone through when he saw a little kid along with all the luggage. At the station in China, this little got into an adventurous mood and made his way into the x-ray machine that is used to scan the luggage of the passengers for safety. Mumbai Video: Mom Boards Running Local Train, Loses Grip of Child, Security Guard Saves her Like a Hero at Mahalaxmi Station.
The video of this incident popped up on the social media and is becoming viral since then. The video captures the moment when the child entered the x-ray machine and also shows him emerging out. This happened at the Xiaolin Railway Station on the 9th of October. The video first emerged on the Twitter handle of CGTN when the man is shown scanning the luggage on the screen and looking around curiously. Soon after he continues to look around him he suddenly sees a child emerging around out of the X-ray machine. You can also see the silhouette of the child on the screen.Scoot Airline Allegedly Refuses to Fly Child With Special Needs, Asks Parents to Deplane.
Take a look at the video.
Child sneaks into X-ray machine at security check in south China pic.twitter.com/qeOovAO4Wn

— CGTN (@CGTNOfficial) October 17, 2018
However this is not the first time something like this happened. Recently another such news that was doing the rounds was of a Pakistani man who jumped on and traveled through an x-ray Baggage Scanner. Take a look at the video.
While the Pakistani man one is hilarious, the child being unsupervised enough to have gone into the x-xay scanner worries a bit. Especially in the airport one must be extremely careful with the kids . The kid could have also hurn himself.