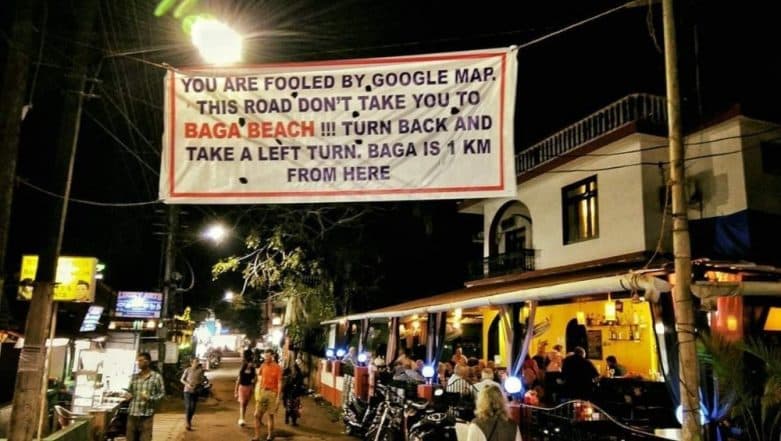 How many times have you reached dead ends by following Google Maps? If that's a yes then you would want to thank the person who put up this banner in Goa. With multiple incidents of tourists being wrongly directed to a marketplace instead of Baga beach by Google Maps, a kind soul decided to help lost explorers. While Google Maps has arguably changed the way people travel, incidents of people reaching the wrong locations are very common.
A photo of the banner put up at the marketplace has gone viral, and Twitterati can't stop thanking the doer for it. Hung, a kilometre from Baga beach, the banner reads, "You are fooled by Google Maps. This road doesn't take you to Baga Beach!!! Turn back and take a left turn, Baga is 1 km from here." The Twitter user Sumanth Raj Urs took to social sharing the photo saying: 'Hahaha. @googlemaps what's the route to Baga beach? Photo credits: masud.' Google Maps Shows Northern England School's Name as 'Prison & Hell On Earth!'
Here is the tweet:
Hahaha. @googlemaps what's the route to Baga beach? 😀

Photo credits: masud. pic.twitter.com/0K2wK2TQD2

— Sumanth Raj Urs (@tweesumz) February 16, 2019
No directions, please!
reminds of another such poster claiming "We serve no directions" put up by a roadside eatery at a secluded thoroughfare at Goa.

— arshi rafique (@mdarshi22) February 17, 2019
Google Maps, are you listening?
There can be a good movie named "Fooled by Google Maps".

— anil (@anildigital) February 16, 2019
Will we soon be finding more such banners?
Wow so sweet of whichever good samaritan did this lol. I've never thought beyond raising an error report

— Atulaa (@atulaak) February 16, 2019
Google Maps needs to solve this
😂😂 like this happened 2-3 times at different location in Pune with me also.

— Shyam Thorat (@thorat_shyam) February 16, 2019
We may have to resort to the traditional method of asking people
Absolutely need such banners. When it comes to route by walk it takes ppl through some crazy roads 😂

In Jodhpur, we wanted to walk on a downhill path but the route suggested was from the roof of a house to the road below and we were just shocked 😂🤣

— Shravya Boggarapu (@ShravB) February 18, 2019
People tweeted thanking the Good Samaritan for the thoughtful act. As the photo went viral, people shared incidents of being wrongly led by Google Maps ending up at dead ends.  Google Maps With AR Navigation Trial Begins; To Offer More Accurate & Useful Directions and Information
A Google Pixel user had criticised the tech giant for lack of support on the device by putting up a banner in Delhi. Google has responded saying that they reached out to the customer with free repair or a new device, but he demanded "two units of the next-gen Pixel" which is against their policy.