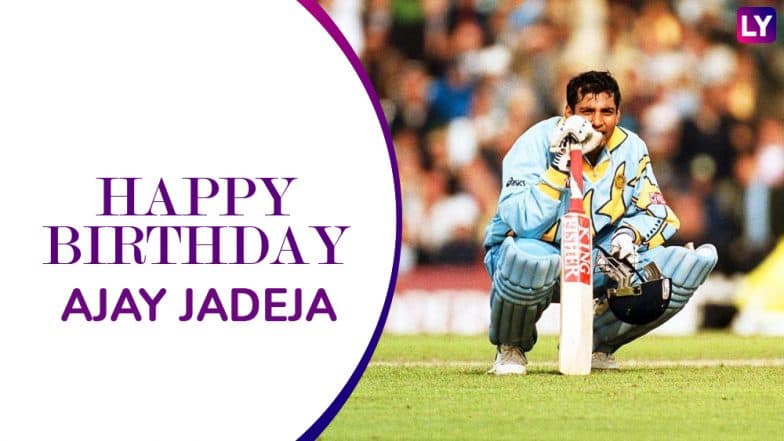 If you are a 90's kid, Sachin Tendulkar is someone you would associate with as a saviour of the Indian Cricket Team on many occasions. There is another man who came in down the middle order and with his almost nonchalant grace, would destroy opposition attacks. Yes, we are talking about former Indian batsman Ajay Jadeja who turns 48 today on February 1. Now seen in a different role as a cricket expert, Ajay Jadeja could accelerate his innings with ease which made him a joy to watch. Let us look back at his top 5 innings. You can read about Ajay Jadeja's life and journey in Hindi here.
45 versus Pakistan 1996 World Cup
In a crunch game versus arch-rivals Pakistan in the 1996 World Cup, India were hobbling at 200-4 with all the big guns gone. A young Ajay Jadeja who was an upcoming prospect at that time played one of the most amazing world cup innings till date. He smashed a 25 ball 45 runs to take his team to 287. He was particularly brutal on one of the games' best bowlers Waqar Younis, smashing him for 40 runs in his last two. This cameo helped India register a memorable victory over the Men in Green.
103* versus Sri Lanka Pepsi Cup 1999
This game against Sri Lanka in Pune is even more special for Ajay Jadeja fans as he was leading the team. The middle-order batsman hit a wonderful 103 runs that included six 4s and four towering 6s. The spinners were being smashed to all parts of the ground by Jadeja who was merciless. India won the game by 51 runs to cap a wonderful day at work for Ajay Jadeja.
105 * versus Australia Pepsi Cup 1998
The Aussies had a solid bowling line up back in the late 1990s with Shane Warne and Damien Fleming the standouts. But they could do little when Ajay Jadeja came up against them in an ODI game at Kochi. He scored a patient 105 runs that included twelve 4s but none of his trademark sixes. He showed great composure by not playing risky shots and guided India to 309. The Aussies could only manage 268 in reply as India won.
92 vs South Africa, SA tour of India 2000
Chasing a 300 plus score is tough even today, but back in the 2000s, it was next to impossible. But this was made possible by some excellent batting by Ajay Jadeja coming in at number five. Chasing 302 for victory, he made a patient 92 runs off 109 balls hitting eight 4s and three 6s. When he departed, he had done enough for the batsman coming in to take India home.
104 vs West Indies, WI tour of India,1994
Set a target of 252 by the West Indies team who had some fearsome fast bowlers like Courtney Walsh and A Cummins, a young Ajay Jadeja opened the innings along with Sachin Tendulkar. He scored a patient 104 off 126 balls to help India chase down the target.
On behalf of the entire team at Latestly, we wish the former cricketer who entertained everyone for a decade in Team India colours, a very happy birthday.