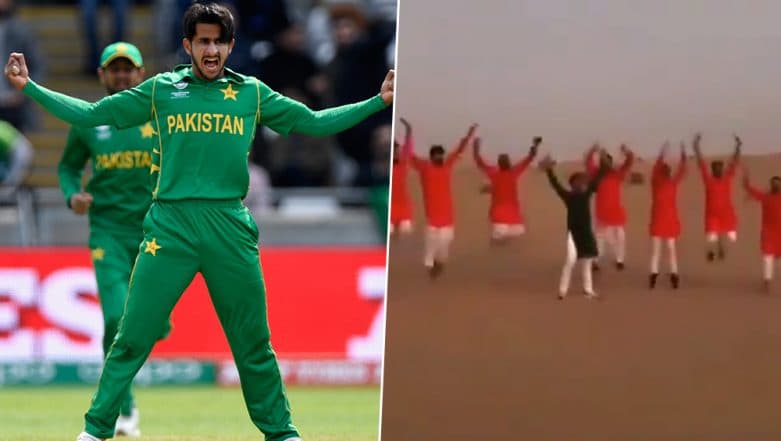 Pakistani cricketer Hasan Ali married Indian girl Samiya Arzoo on Tuesday at Atlantis Palm Hotel in Dubai. The event was attended by the close friends and family members of the couple. Many videos and photos from the wedding ceremony were shared on social media and one of the videos showed Ali celebrating his celebration move 'Bomb Explosion' with a group of people. However, he was also trolled by Twitterati over the video. Hasan Ali-Samiya Aarzoo's Dubai Wedding: Sania Mirza Wishes Pakistani Cricketer Ahead of His Marriage With Indian Girl. 
In the video, Ali is seen performing his celebration move while others imitate his act. The Pakistani bowler often performs this move after taking a wicket. Have a look at the video below.
Hasan Ali Trolled!
Hassan Ali doing his wicket-taking celebration at a desert safari ahead of his Mehndi today pic.twitter.com/J37jZySDOk

— Saj Sadiq (@Saj_PakPassion) August 19, 2019
Twitterati were quick to respond to the video and came up with comments to take a dig at the Pakistani cricketer. Some called him an idiot for shooting a video like that, while others talked about his poor show in World Cup 2019. Have a look at some of the tweets.
LOL!
Hassan Ali was utter disappointment in CWC19. He is not at all serious with his career. 👎

— Naqi Hussain🇵🇰🦍🏴󠁧󠁢󠁷󠁬󠁳󠁿🏴󠁧󠁢󠁥󠁮󠁧󠁿 (@Naqi_786) August 19, 2019
Celebration Gone Wrong!
Tell him to take wickets first and later celebrate.

— PAK! (@Pakistanioooooo) August 20, 2019
ROFL!
This guy needs treatment. Medical treatment.

— Ali (@Alibaba842711) August 20, 2019
Be Careful Ali!
Careful don't want an injury before the big day 😬😬 pic.twitter.com/ggbjUVZIyl

— Shoaib🍉 (@shoaibx7) August 19, 2019
Oops!
Pagal self obsessed insaan zero performance attitude sky high

— Saad Imtiaz (@Saad_Im10) August 19, 2019
Hasan Ali Trolled!
When did he take a wicket since last champions trophy?

— Ahmed (@fah010) August 19, 2019
Yesterday, Ali was also trolled for another post from his wedding. Ali had posted a photo from his bachelor's party and commented, "Last night as a bachelor..!looking forward." However, people started trolling him. While some took a dig at his shoes, others question the exact meaning of his comment. Hasan Ali-Samiya Aarzoo Wedding: Pakistani Cricketer Called 'Cheap' by Trolls Over 'Last Night as Bachelor' Comment. 
Earlier, the Pakistan wedding photographers Da Artist Photo shared many photos and videos of the pre-wedding photoshoot of Hasan Ali and Samiya on their Instagram profile. Samiya hails from Haryana and has a B.Tech (Aeronautical) degree from Manav Rachna University. He is a former employee of Jet Airways and currently works in Emirates Airlines. Shamia's father is a former Block Development and Panchayat Officer (BPDO).