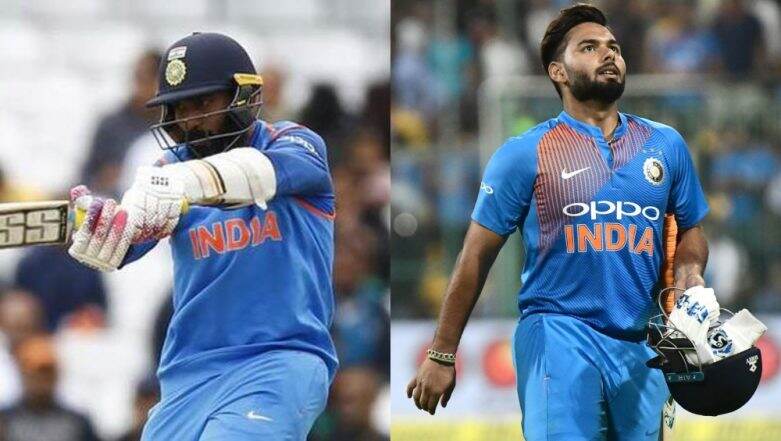 The selection of Dinesh Karthik over Rishabh Pant for the ICC Cricket World Cup had amazed many. In the recently concluded Indian Premier League 2019, Dinesh Karthik proved to be mediocre as compared to Rishabh Pant. With this, the selection committee was criticised even more as many of them still feel that the Delhi Capitals' player is held an edge Dinesh Karthik. Now, Virat Kohli has spoken up about the same and said that it was Dinesh Karthik's experience that bagged him a spot in the ICC Cricket World Cup 2019.  ICC Cricket World Cup 2019 Schedule in PDF: Ticket Prices, Dates, Venue Details & Timetable Available for Download Online.
Even the selectors in the committee seconded with Kohli's opinion. "He has the experience. If god forbid, something happens to MS (Dhoni), Karthik can be immensely valuable behind the wickets. As a finisher, he's done well. So, it was the overall exposure to a tournament of this magnitude that was taken into primary consideration," said Virat Kohli in an interview with the Times of India. India Team for ICC Cricket World Cup 2019 Announcement Updates: Dinesh Karthik Included, No Place for Ambati Rayudu and Rishabh Pant.
The selectors have made sure to combine experience with youth. While seasoned campaigners like MS Dhoni and Shikhar Dhawan are into the squad, the selectors have added fresh faces like KL Rahul, Jasprit Bumrah, Vijay Shankar and others into the squad. The ICC Cricket World Cup 2019 will begin on May 30 in England and Wales. India will play their first game against South Africa on June 5, 2019, at the Rose Bowl Cricket Stadium.