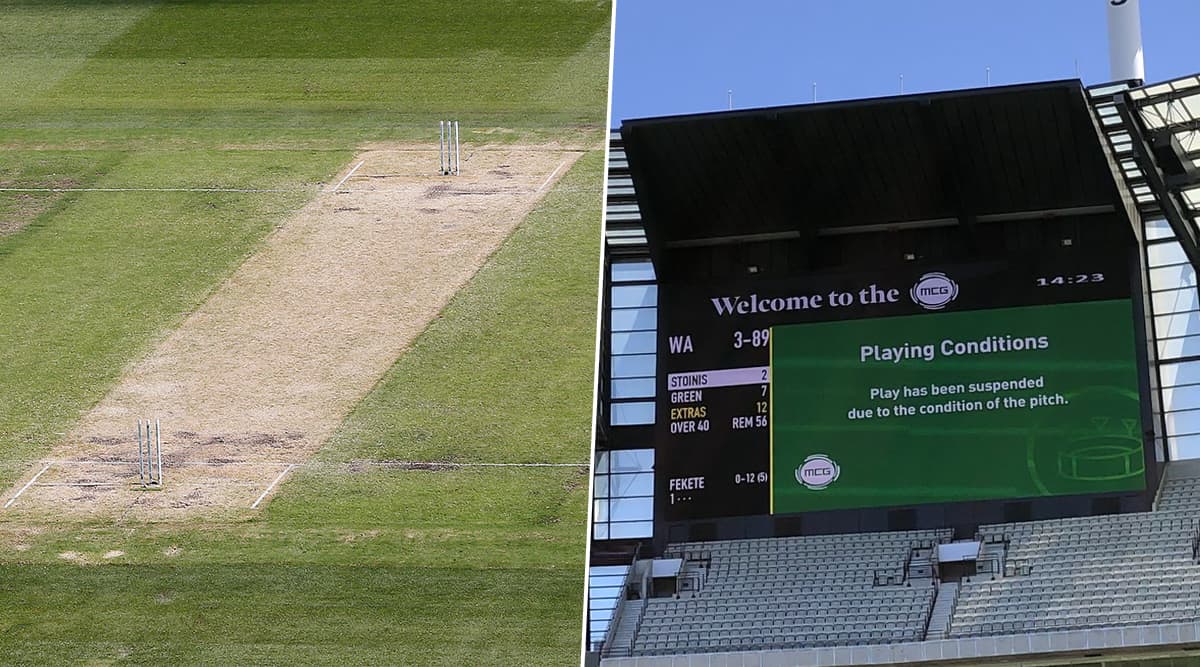 Preparations at the Melbourne Cricket Ground (MCG) for the upcoming Boxing Day Test match between Australia and New Zealand were thrown into disarray after a Sheffield Shield match at the ground was indefinitely suspended due to dangerous pitch conditions and unpredictable bounce. Match officials were forced to call-off play on Day 1 of Western Australia vs Victoria Sheffield Shield clash after Shaun Marsh, Cameron Green and Marcus Stoinis were hit multiple times from nasty deliveries of fast bowlers. Western Australia were on 89/3 when play was called-off just 45 minutes into the second session. Australia Announce Squad for Three-Match Test Series Against New Zealand, Cameron Bancroft Left Out.
Less than three weeks remain for the Boxing Day Test match between Australia and New Zealand at the Melbourne Cricket Ground (MCG) which will also be the second game of a three-match Test series between the Trans-Tasmanian rivals. The first match of the Trans-Tasman Trophy will be played at the Perth Stadium followed by the Boxing Day Test match at the MCG from December 26-30, 2019. According to various reports, the same pitch will not be used for the upcoming Boxing Day Test match. Reports also claimed that the curators are preparing a separate pitch for the upcoming Test but the development could send shivers across both the teams. Ricky Ponting Feels Australia's Bowling Attack Better than India.
Sheffield Shield Match Suspended at MCG
— Alister Nicholson (@AlisterNicho) December 7, 2019
MCG Pitch Deemed Too Dangerous
BREAKING: Pitch deemed unsafe at the MCG with unpredictable bounce. Players leaving the field. Marsh and Stoinis both hit multiple times. @abcgrandstand pic.twitter.com/jOoNIJZYuS

— Alister Nicholson (@AlisterNicho) December 7, 2019
Peter Siddle was the most productive and also the most threatening of the home side's bowlers. Siddle, who had figures of 3/21, rattled the helmets of both Marsh and Stoinis with sharp rising deliveries on either side of lunch while Stoinis was also hit on the ribs by an Andrew Fekete delivery that unexpectedly rose to hip-high. Both the batsmen were assessed by the medical staff and were fit to continue before the pitch was itself deemed unfit and dangerous post-lunch on Day 1 of the Sheffield Shield clash.
Play Stopped At MCG After Batsmen Get Hit Multiple Times
Dangerous stuff. Play has now stopped - groundsmen now out in the middle talking to the umpires. #SheffieldShield

— Shayne Hope 📰 (@shayne_hope) December 7, 2019
No official time for the match to resume or restart was announced although match referee Bob Parry said that the game will not be called-off. "We're treating it like a rain delay where you can recoup time up to an hour today and carry over an hour to the each of two subsequent days," Perry was quoted as saying by ABC News. "There were multiple balls that sort of vertically deviated more than acceptable and struck players on the helmet and body. Obviously that's when the umpires felt it was becoming dangerous and player welfare has to be front of mind," he added.