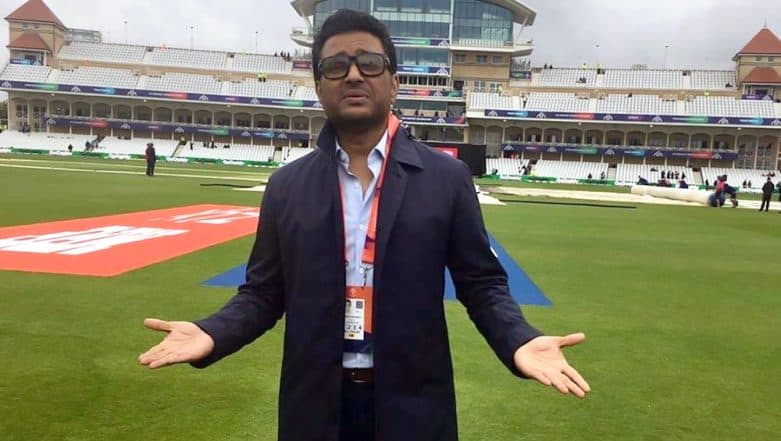 Former Indian Cricketer and Commentator Sanjay Manjrekar has always created a lot of buzz with his controversial statements in recent times. Manjrekar, who was bashed for his infamous "bits and pieces" comment about the Indian All-rounder Ravindra Jadeja, is being trolled again for including Indian Captain Virat Kohli's name in his dream XI of ICC Cricket World Cup 2019. The 37 tests veteran got trolled for naming the Indian skipper in the XI despite his average performance and exclusion of Ravindra Jadeja. Sanjay Manjrekar Posts Sarcastic 'Bits And Pieces' Tweet On End of ICC Cricket World Cup 2019, Twitterati Hilariously Troll the Indian Commentator.
Twitterati was not impressed by Manjerekar's selection and trolled him with harsh comments. Some slammed him for selecting Mitchell Santner over Ravindra Jadeja while others replied with hilarious memes. The netizens had bashed the former cricketer a lot in the past, and his Dream XI selection of ICC Cricket World 2019 was also not treated differently. Have a look at some hilarious tweets and memes made in reply to Manjrekar's post. Chennai Super Kings Takes a Cheeky Dig at Sanjay Manjrekar Over his Comments on Ravindra Jadeja.
Sanjay Manjrekar's World Cup XI
— Sanjay Manjrekar (@sanjaymanjrekar) July 18, 2019
Was Kohli's Selection Right??
Kohli? are you kidding me Manjrekar? tell me any good inning of Kohli in World Cup.. Should have been Babar Azam in your list.. You are such a Biased Indian

— Hamza Hameed Mirza (@newsarenapress) July 18, 2019
Was The selection Biased?
Santner & Shakib both are identical spinners. You deliberately chose Santner because of Jadeja. 🤣

One more batsman in place of Santner.

Or Jimmy Neesham in place of him.

— Manish Chavda (@IManish10_) July 18, 2019
Jadeja All-Around!
My team

Jadeja

Jadeja

Jadeja

Jadeja

Jadeja

Jadeja

Jadeja

Jadeja

Jadeja

Jadeja

— Vinay Chanumolu (@VinayChanumolu) July 19, 2019
Well, That's Harsh!
No one asked your opinion about playing XI

If you have guts play in next @IPL with CSK

— Sajithsankar (@im_sajithsinger) July 18, 2019
Manjrekar's Bashing Continues...
No bits and pieces . Oh he tore into pieces . U need time to self rejoin

— Phalgun Iyengar 🔱 🇮🇳 (@PhalgunIyengar) July 18, 2019
During the ICC Cricket World Cup 2019, Manjrekar stated that "I am not a big fan of bits and pieces players which Jadeja is at this point of his career in 50-over cricket". to which the 30-year-old all-rounder tweeted: "Still I have played twice the number of matches you have played and I m still playing. Learn to respect ppl who have achieved.i have heard enough of your verbal diarrhoea."
Later in the mega-tournament, Jadeja played a magnificent of 77 runs in the all-important, semi-final match against New Zealand. The cameo wasn't sufficient to guide India over the line but enough to shatter the commentator. In the post-match discussion Manjrekar said that "By bits 'n' pieces of sheer brilliance, he's ripped me apart on all fronts" and again become a topic of mockery in social media.