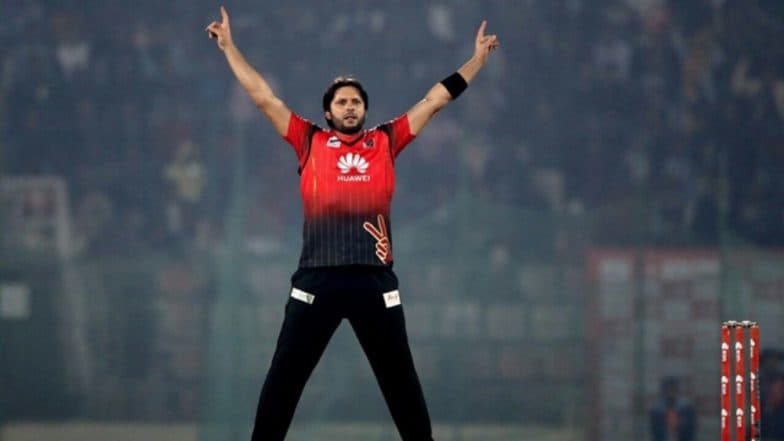 Shahid Afridi recently released his autobiography Game Changer which has bagged a lot of headlines. In the biography, the Pakistani cricketer went on to slam Gautam Gambhir's attitude. He said that Gambhir has no personality and lacks character. The excerpt of the book was shared by a famous Pakistani sports journalist Saj Sadiq. This surely did not go down well with the fans and the Pakistani cricketer was trolled massively on social media. First check out what Afridi said about Gambhir. "Some rivalries were personal, some professional. First the curious case of Gambhir. Oh poor Gautam. He & his attitude problem. He who has no personality. He who is barely a character in the great scheme of cricket. He who has no great records just a lot of attitude," he wrote. Shahid Afridi Gets Trolled After Excluding Sachin Tendulkar & MS Dhoni From His All-Time World Cup XI. 
Afridi even said that he acts like Don Bradman and James Bond. "Gambhir behaves like he's a cross between Don Bradman & James Bond. In Karachi, we call guys like him saryal (burnt up). It's simple, I like happy, positive people. Doesn't matter if they are aggressive or competitive, but you have to be positive & Gambhir wasn't." Recalling the Asia Cup 2007 incident, Afridi wrote, "I remember the run-in with Gambhir during the 2007 Asia Cup, when he completed his single while running straight into me. The umpires had to finish it off or I would have. Clearly, we had a frank bilateral discussion about each other's female relatives." Afridi's Outrageous Claims: Gautam Gambhir Has No Great Records, Just Lot of Attitude.
These statements surely did not go down well the fans in India and they trolled him left, right and center. Check out a few tweets below:
2007 T20 world cup final

Gambhir 75 runs

Afridi runs🔔🔔 ,wickets 🔔🔔🔔 🤣🤣

India won T20 world cup 🤣🤣

— यति_महाराज(Yeti) (@Singer_ByBirth) May 2, 2019
This netizen pointed out that Afridi forged his age.
And Afridi was a fraud. He played with fudging his age and still doesn't know what his current age is.

— 🇮🇳 Soumya Sarkar 🇮🇳 (@SarkarSpeaking) May 3, 2019
Another one.
The most overrated player ever

Never worth the hype he got

Whereas gambhir is a match winner

— Mohd Rayyan 🇮🇳 (@MohdRayyan16) May 3, 2019
This troll had a few doubts about Afridi's intelligence.
player who chooses Saqlain in his dream team ahead of Kumble sums up his intelligence in cricket...@SAfridiOfficial

— chowkidar Sid (@boyzone220) May 3, 2019
Last one.
Ab Afridi ki bhi autobiography aa rhi hai to kya kah skte hain... pic.twitter.com/5e1xOU7DKd

— Akki (@CrickPotato1) May 3, 2019
A couple of days ago Afridi got trolled for excluding MS Dhoni and Sachin Tendulkar from his all-time World Cup Playing XI. The Pakistani cricketer instead chose Virat Kohli over both cricketers and got trolled mercilessly.