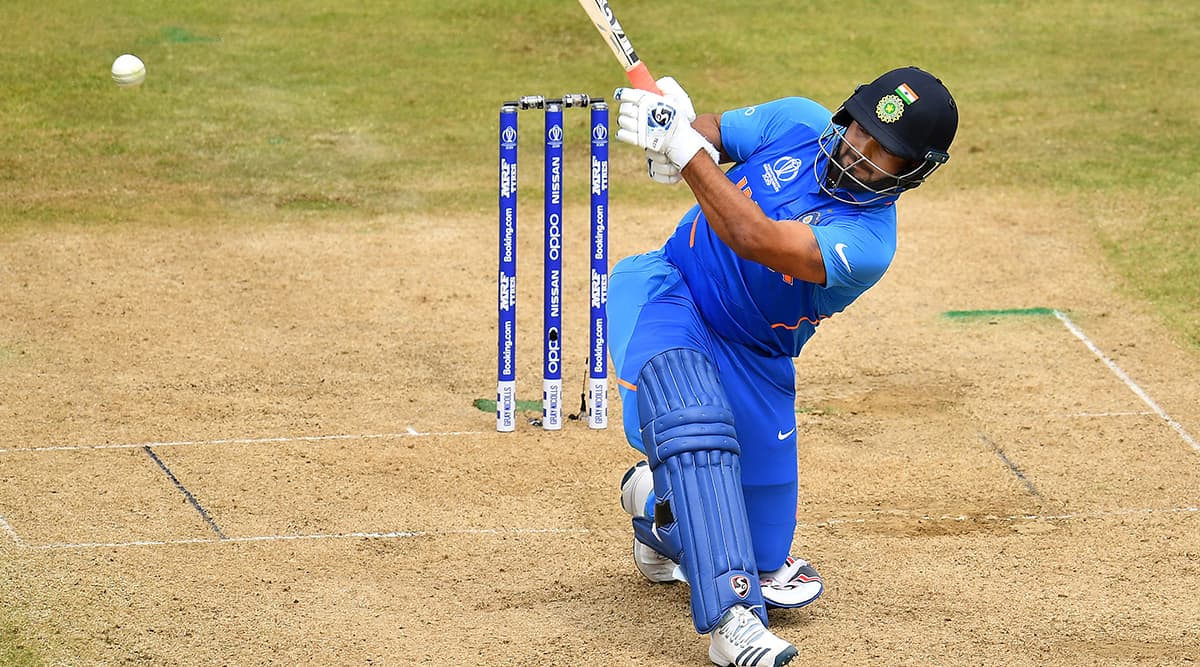 Rishabh Pant yet again failed short of a big innings leaving fans disappointed during the 1st India vs Australia ODI match at the Wankhede Stadium in Mumbai on January 14, 2020 (Tuesday). It was, however, his mode of dismissal in the IND vs AUS 1st ODI match that got fans talking. Pant, who was India's only recognised batsman following the dismissal of Ravindra Jadeja was out to a Pat Cummins bouncer in the 44th over but in a bizarre instance, the umpire Shamshuddin decided to wait in and ponder before declaring the left-handed batsman out although replays showed that the ball had clearly hit the willow before rattling the helmet. Eventually, Pant walked-off by himself without waiting for the umpire. This rare case of bizarre umpiring got the fans talking. India Vs Australia, Live Cricket Score 1st ODI Match.
The incident occurred in the second delivery of the 44th over with Pant and Shradul Thakur at the crease. India's innings had just run out of breath with the fall of frequent wickets. Jadeja had just been dismissed in the previous over and responsibilities were big on Pant's shoulders with him being the only recognized batsman at the crease batting alongside the tail-enders. Rishabh Pant Faces Wrath of Online Trolls After Failing to Convert Good Start During India vs Australia 1st ODI 2020.
Rishabh Pant Given Out After Long Wait
WTF happened there... Umpire has given Pant out... after along time... #INDvAUS

— ...Rachit (@rachit_g2) January 14, 2020
An Obvious Catch
What a idiot that Umpire representing India is!!! Guy stood there not wanting to call an obvious catch out 🤦‍♂️#INDvAUS

— Daniel Prakash (@iDanPrakash) January 14, 2020
Rishabh Pant Sent-Off
Umpire giving Pant a chance to walk....Pant was doing his own concussion protocol walking down the pitch....umpire decided to save him further punishment and send him off.... #IndvAus

— Innocent Bystander (@InnoBystander) January 14, 2020
Don't Wait for Umpire's Decision
#INDvAUS It would be pathetic of Rishabh Pant if he had continued playing after such an obvious dismissal.

Can't understand why cricketers have to wait for the umpire's decision wen its so obvious.

— Darkest Knight (@NoooWhiteKnight) January 14, 2020
But the left-handed wicket-keeper batsman failed to last longer than six balls. A vicious bouncer from Cummins straight at the batsman's head caught Pant short and although he tried to get bat to the delivery an uncontrolled nick sent the ball flying straight at backward point where Ashton Turner took a comfortable catch.
The Aussies were jubilant even as the Wankhede went quiet and numb. Confusion, however, rose when umpire Shamshuddin – than at short leg – did not raise his fingers to the caught appeal. Instead, he walked to his partner for a consultation on the matter. By then, however, Pant had already started walking back to the pavilion. Shamshuddin eventually raised his fingers and Australian cricketers, who were furious at the decision – they had no reviews left – breathed a sigh of relief.
While the umpire's bizarre decision got the fans talking, Pant's poor outing didn't go unnoticed. The 22-year-old has scored only one half-century in 16 matches and has been out in the 30s for the most number of times. Against Australia, he made 28 runs off 33 deliveries with two fours and a six but failed to provide the finishes touches to India's innings with the hosts getting bowled out for 255 with 5 deliveries still remaining.