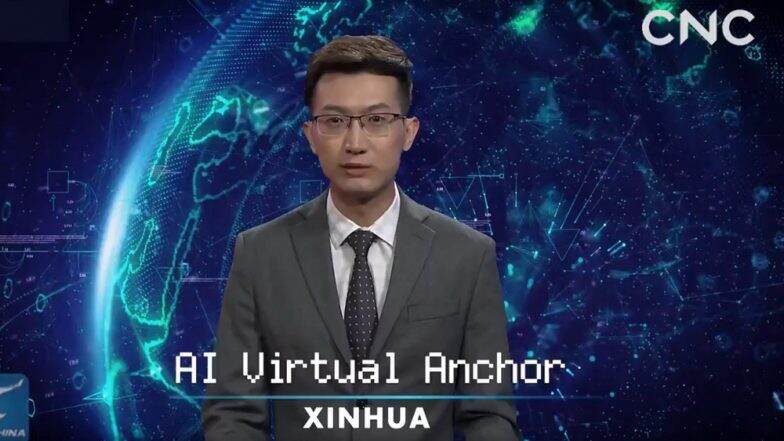 China's Xinhua news agency says it has developed an artificial intelligence news presenter, ready to take over 24/7, every single day of the year.
The new AI anchors, launched by Xinhua and Beijing-based search engine operator Sogou during the World Internet Conference in China, can deliver the news with "the same effect" as human anchors because the machine learning programme is able to synthesise realistic-looking speech, lip movements and facial expressions, according to a Xinhua news report on Wednesday.
Sogou's "AI Synthetic Anchor," showcased the firm's advanced voice and video synthesis technology at the 5th World Internet Conference kicked off in Wuzhen, Zhejiang, China.
After this launch, AI anchors have officially become members of the Xinhua News Agency reporting team. They will work with other anchors to bring you authoritative, timely and accurate news information in both Chinese and English," Xinhua said.
There are actually a couple of AI Synthetic Anchors: One is a clone of the Xinhua News Agency's Hao Qiu and delivers the news in Mandarin; the other is modeled on Xinhua newscaster Zhang Zhao and performs in English. In their 30-second demonstration clips the AI anchors assured listeners: "I will work tirelessly to keep you informed as texts will be typed into my system uninterrupted."
Xinhua AI anchor, launched on Wednesday, starts presenting news reports from Thursday. In this program, he takes you to have a look at what a Panama official and the Chinese businessman Jack Ma say about the ongoing #CIIE. pic.twitter.com/OZkRQtv1sQ

— China Xinhua News (@XHNews) November 8, 2018
The AI anchors are now available throughout Xinhua's internet and mobile platforms such as its official Chinese and English apps, WeChat public account, and online TV webpage.
News editors need to only input a text into the AI Synthetic Anchor system and the AI composite anchor will do the rest. Moreover only a small amount of audio and video input data is required to customize the agent.
But, this isn't the first time countries have shown off robot news anchors. Several months ago, Japanese news channel Kodormoroid debuted Erica, who is also powered by artificial intelligence. She has gotten little attention after her initial debut as her makers have criticised her for making her stiff and too robot like.
China has become one of the leading global hubs for AI development in recent years. Several fields such as finance, healthcare, and manufacturing have adopted machine learning systems for commercial uses.