A fossil hunter has garnered the wrath of palaeontologists for trying to sell the skeleton of a Tyrannosaurus rex on eBay. Alan Detrich tried selling the skeleton which is estimated to be 68 million years old at USD 2.95 million (Rs 20 crore). Detrich tried to bid the 15-foot fossil of the dinosaur to a wealthy private collector, arguing that it could still be a research material. The description of the product on eBay reads, "Most Likely the Only BABY T-Rex in the World! It has a 15 FOOT long Body and a 21' SKULL with Serrated Teeth! This Rex was very a very dangerous meat eater. It's a RARE opportunity indeed to ever see a baby REX…"
However, scientists who were enraged by the incident questioned why Detrich put the skeleton in public view at the University of Kansas Biodiversity Institute and Natural History Museum two years ago and said it was part of a strategy to sell the specimen to a rich investor. The museum said they have cut ties with Dietrich and confirmed it was not connected to the sale following the criticisms. New Species of 'Sexy Dinosaurs' From 140 Million Years Ago Discovered in Patagonia, View Pic!
Skeleton of baby T-Rex being sold on eBay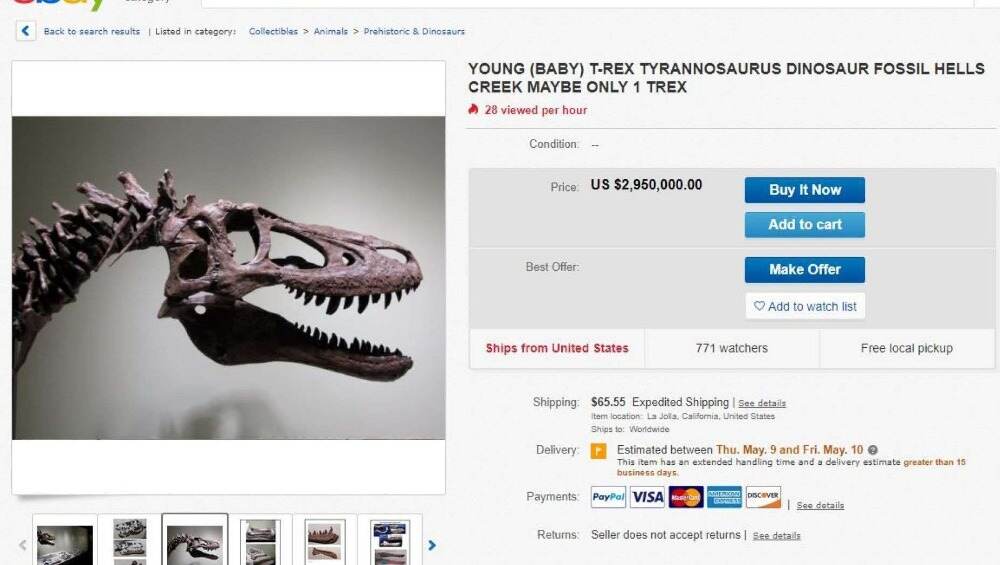 Museum director Leonard Krishtalka in a statement said, "The KU Natural History Museum does not sell or mediate the sale of specimens to private individuals. Accordingly, the specimen on exhibit-loan to us has been removed from the exhibit and is being returned to the owner. We have asked that the owner remove any association with us from his sale listing." Is it Possible to Own Dinosaur Fossils? Leonardo DiCaprio's Interest in Buying 150-Million-Year-Old Bones Upsets Researchers.
Check out KU Natural History's tweet below:
— KU Natural History (@kunhm) April 9, 2019
eBay, the Society of Vertebrate Paleontology said in a letter last week said, "Detrich has tried to capitalise on the museum's good faith by using the exhibition and scientific attention as selling points." It added, "These events undermine the scientific process for studying past life as well as the prospect for future generations to share the natural heritage of our planet."
Detrich who lives in Kansas said he hoped putting it up on eBay would attract a billionaire and did not inform the museum of the sale. In 2013, Detrich along with his brother, Robert had unearthed the fossil on a property he had leased in Montana where he was hunting for fossils. In 1999, Detrich had sought to sell a T-Rex skeleton on eBay for USD 5.8 million (Rs 40 crore), however, couldn't as pranksters sent him fake bids. After the eBay listing went live, the museum took down the fossils from public viewing and returned them to Detrich.