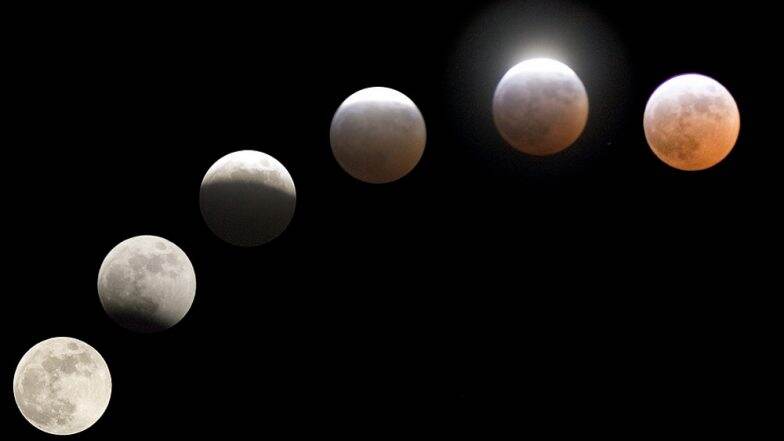 The first total lunar eclipse of 2019 called the Super Blood Wolf Moon is going to grace the night skies on January 20 and the early hours of January 21. The total lunar eclipse, known as Chandra Grahan in Hindi, will see the moon turn a bright red. A full moon that takes place in the month of January is traditionally called as a wolf moon. The long name of the phenomenon emphasises on how rare of an event we are going to witness. But this celestial spectacle will not be visible for people in India. Super blood wolf moon or Chandra Grahan will be seen over North and South America, and East Asia. So Indians who do not want to miss out on this phenomenon will have to depend on live streaming by different platforms. Super Blood Wolf Moon Eclipse on January 20, 2019: Know What is Total Lunar Eclipse and Why is it Called Wolf Moon.
It is a trifecta of events which has a total lunar eclipse, super blood moon and wolf moon. The lunar eclipse will last for 3 hours 17 minutes and the total lunar eclipse phase will last for more than an hour. The earth will pass on from between the moon and the sun, casting its shadow on the satellite. The super blood wolf moon will take place from 8:06 am IST on January 20 and end at 1:18 pm IST on January 21. But unfortunately, we won't be able to see a glimpse of it at all. Super Blood Wolf Moon Will Cause Earthquakes and Volcanoes? Know How The Celestial Phenomenon Could Cause Natural Disasters on Earth!
Where and How to Watch Super Blood Wolf Moon in India
For those who cannot watch the celestial phenomenon in person can depend on live streaming by several channels. Observatories organise live streaming on the event and hold sessions to discuss more such events. The time and date YouTube channel will also have live streaming of the event.
Live Streaming of Super Blood Wolf Moon 2019
Watching a lunar eclipse will naked eye has no harm. Those who will get to see the phenomenon in person can directly observe it in the night sky. It is not advisable to see a solar eclipse with the naked eye.