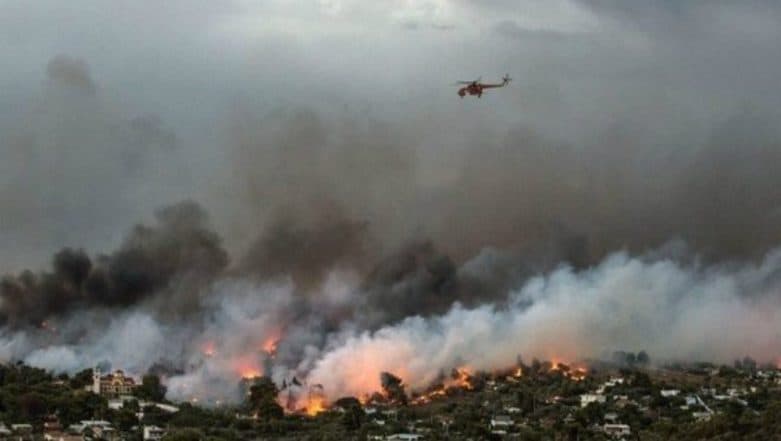 Athens, July 24: At least 60 people have died, scores injured and almost 700 others rescued from the sea as huge forest fires raged across Greece, authorities said on Tuesday.
Huge flames trapped families with children as they tried to flee Mati, 29 km east of the Greek capital, where the blaze hit on Monday afternoon. It was by far the country's worst fire since blazes raged across the southern Peloponnese peninsula in August 2007, killing dozens, the Guardian reported.
Rescuers found the bodies of 26 adults and children who had apparently hugged each other as they died, trapped by the inferno just metres from the sea, the BBC reported.
Talking about the 26 bodies, Greece's Red Cross head Nikos Economopoulos said: "They had tried to find an escape route but unfortunately these people and their kids didn't make it in time. Instinctively, seeing the end nearing, they embraced."
Hundreds of firefighters battled the blazes that devoured homes and cars and authorities sought international assistance. Prime Minister Alexis Tsipras declared three days of national mourning. More than 150 people were injured.
"We will do whatever is humanly possible to control it," Tsipras said, adding that a state of emergency had been declared in the Attica region -- which includes Athens -- and that all emergency forces had been mobilised.
"We mustn't let mourning overwhelm us, because these hours are hours of battle, unity, courage and above all solidarity."
Greece invoked European Union civil protection agreements to seek help. Italy, Germany, Poland and France sent help in the form of planes, vehicles and firefighters. Spain and Cyprus offered assistance, but with temperatures set to soar again, they were in a race against time to get the fires under control.
One civil protection agency official described the situation as "a national tragedy".
"The death toll rises every hour, many people lost their loved ones, many people lost their houses, lost everything, and they will need long-term support in order to recover," said International Federation of the Red Cross and Red Crescent Societies' spokesperson Georgia Trismpioti.
Dimitri Piros, Director of medical services for Ekav, Greece's nationwide ambulance service, told the BBC people had suffered horrific injuries because of the speed of the fire.
Coastal patrol boats and private vessels picked up hundreds of those who did manage to reach harbours or beaches. "Thankfully the sea was there and we went into the sea because the flames were chasing us all the way to the water," said one survivor, Kostas Laganos.
"It burned our backs and we dived into the water... I said: 'My God, we must run to save ourselves.'" Meanwhile, criticism of the rescue operation mounted on Tuesday as locals in and around Mati claimed officials had misjudged the ferocity of the fires.
However, Yannis Stratikopoulos of the civil protection agency said it was too early to speculate what had caused the fires, but rejected suggestions that the emergency response had been badly coordinated.