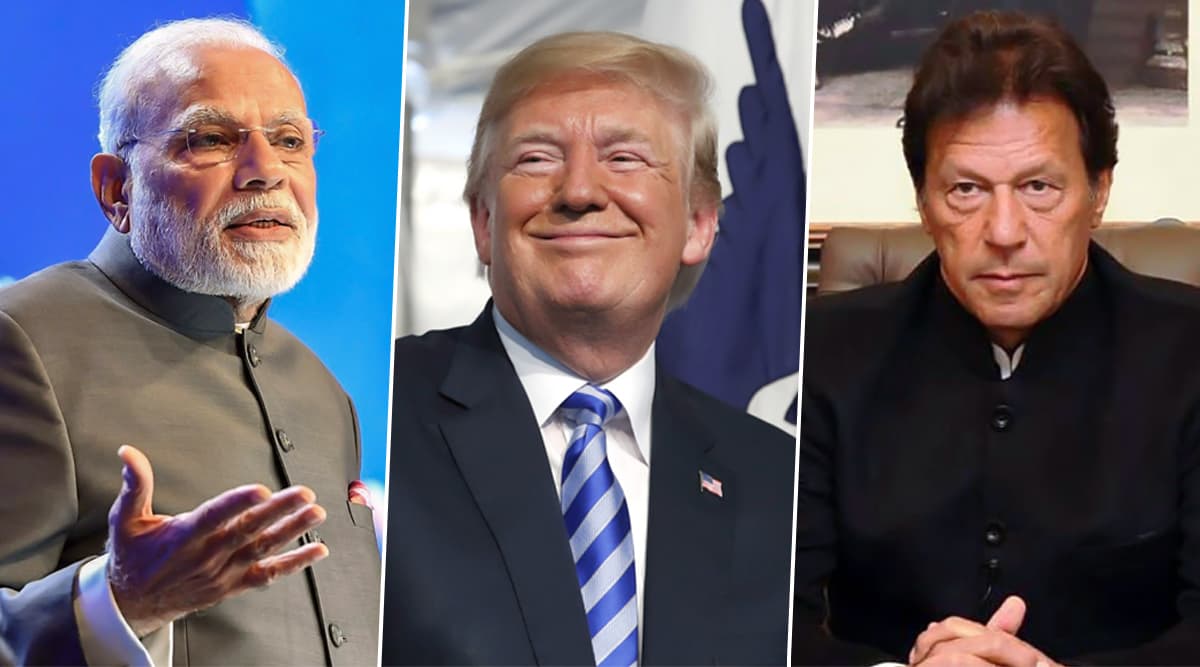 New York, September 26: United States President Donald Trump, while speaking at sidelines of the ongoing United Nations General Assembly, repeated his Kashmir mediation pitch for the fifth time. Trump said he will take all possible steps under his capacity to convince the "two nuclear powers" - India and Pakistan - top opt for negotiation. Trump an 'Illiterate', Has No Knowledge About Gandhi: Owaisi Fumes on PM Modi Being Called 'Father of India'.
The solution to the Kashmir crisis lies in dialogue, Trump said, adding that Washington is willing to act as an "arbitrator or mediator" for the peaceful resolution of the seven-decade-old issue. Trump further claimed that his repeated recommendations to Indian Prime Minister Narendra Modi and his Pakistani counterpart Imran Khan to climb down the escalation ladder has yielded results.
According to the US President, he has had "very productive conversations" on the Kashmir issue with the Indian and Pakistani heads of states. "They are at very serious odds right now and hopefully that will get better," he added.
Trump's 5th Mediation Pitch:
#NewsAlert | US President @realDonaldTrump tries to play peacemaker again, this is his fourth mediation offer on Kashmir. | @SiddiquiMaha with more details pic.twitter.com/26F599uElZ

— News18 (@CNNnews18) September 26, 2019
"With respect to Pakistan and India, we talked about Kashmir. I offered whether it is arbitration or mediation, or whatever it has to be I'll do whatever I can because they are at very serious odds right now and hopefully that will get better," he told reporters at a news conference late on Wednesday.
"You look at the two gentlemen heading those two countries... two good friends of mine. I said, fellows work it out, just work it out. Those are two nuclear countries, got to work it out," he added.
Trump had first made the pitch to mediate the Kashmir issue in August this year, days before the Indian government scrapped Article 370 or the special provision in the Constitution which guarantees semi-autonomous status to the disputed region.
The second mediation offer came nearly two weeks later, when Pakistan raised hue and cry over the alleged human rights violation in Kashmir.
New Delhi had strongly reacted to Trump's initially arbitration offers. During a joint press briefing at the sidelines of G7 summit in Biarritz, Prime Minister Modi had said India and Pakistan are capable of resolving their issues and "do not require third-party intervention".
The third, fourth and fifth mediation offer from the US President has come within the last three days, at the sidelines of the ongoing 74th session of the UN General Assembly.