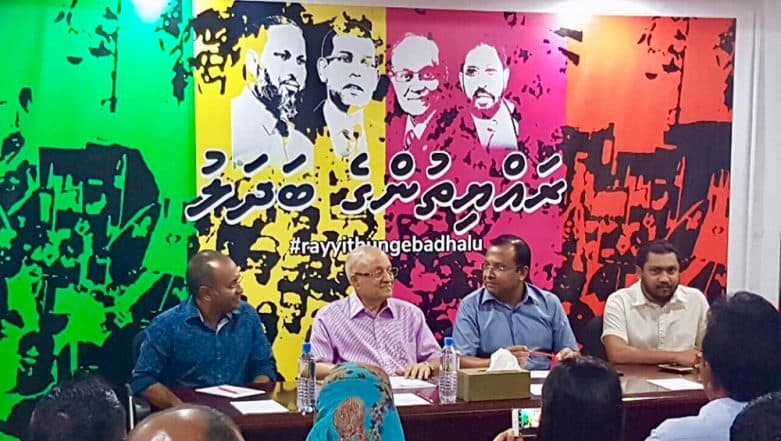 Maldives' former president Maumoon Abdul Gayoom who was jailed by his half-brother and current president Abdulla Yameen in a crackdown on opposition parties, has now been released on bail. His release comes days after Yameen was defeated in the country's general elections.
Gayoom was the Indian Ocean island nation's longest-serving leader. He was released on Sunday by the High Court in Male after he filed fresh appeals against their controversial convictions. He was accused of conspiring to overthrow the government of President Abdulla Yameen.
The High Court released Gayoom on a bail of 60,000 rupiyaa ($3,900) and he was also ordered not to travel abroad without its permission.
President Yameen jailed or exiled most of his rivals during his turbulent five-year term which ends in mid-November. Gayoom, now 80, was in power for three decades, ruling the islands with an iron fist until 2008, when the Maldives became a multi-party democracy.
He fell out with his half-brother in 2016 and joined the opposition.
"Finally, they are all home," Gayoom's daughter Yumna Maumoon said on Twitter.
"Hope and pray that all political prisoners will be released soon. The nightmare is finally over Insha Allah. Thank you all who struggled hard for this day."
Another Maldivian dissident, Qasim Ibrahim, was also granted bail. He obtained prison leave for medical treatment and has remained in Europe. Yameen jailed or exiled most of his rivals during his five-year term that will come to an end on November 17 when the President-elect Ibrahim Muhamed Solih is set to be sworn in.
The island nation of Maldives, home to about 4 lakh people has had a turbulent political decade. The archipelago had its first elections in 2008 but the President Mohammad Nasheed was overthrown in 2012. The elections following his removal saw Abdulla Yameen become president. In the past five years, Yameen has cracked down on opposition parties, judges of the Supreme Court, journalists and Maldivians.
His election defeat was not anticipated and many still fear that he will do his utmost to cling on to power.