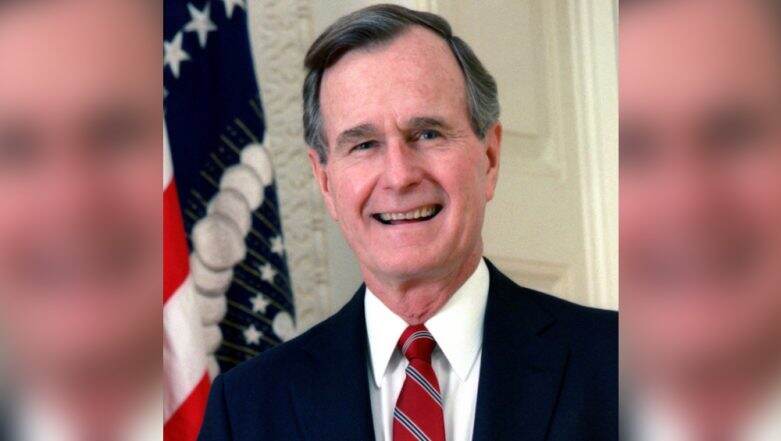 George Herbert Walker Bush, the 41st President of United States passed away on Friday, November 30 at the age of 94. The former president died on Friday night at 10.10 pm. He is survived by his five children and their spouses, 17 grandchildren, 8 great-grandchildren and two siblings. His death occurs just eight months after his wife Barbara passed away in April. His political career spanned for nearly 3 decades and saw his son take over the title as the 43rd President of US. People on social media, politicians, activists, family members commoners have expressed their heartfelt condolences on the demise of the former US president. George Bush Senior Dies at 94 After Prolonged Illness, Former US President Breathes His Last on November 30. 
In a statement released by his son George W. Bush, "Jeb, Neil, Marvin, Doro and I are saddened to announce that after 94 remarkable years, our dear Dad has died." Sr Bush was suffering from Parkinson's disease, which forced him to use a wheelchair. After the death of his wife in April, he had an infection which spread to his blood. He was admitted to hospitals several times for his treatment. His health was deteriorating more after his wife's demise.
Check George W. Bush's entire statement on the death of his father Sr George Bush
Statement by President George W. Bush on the death of his father, President George H.W. Bush https://t.co/wDD0vnlN8U pic.twitter.com/t7UsDYSKY8

— George W. Bush Presidential Center (@TheBushCenter) December 1, 2018
Check Some Tweets Offering Condolences on the Death of George H W Bush
God Bless you Mr. President and thank you for your extraordinary service to our great nation. Our condolences to the entire Bush family. https://t.co/7aV71TygXm

— John K. Delaney (@JohnKDelaney) December 1, 2018
Son Jeb Bush's tweet condoling his father's demise
Nothing gave my Gampy more joy than service to others, especially supporting and caring for those who risk making the ultimate sacrifice everyday. His leadership taught us to be kinder and gentler, to love each other. We will miss him dearly. pic.twitter.com/i2iR5U3ikc

— Jeb Bush, Jr. (@JebBushJr) December 1, 2018
Rest in Peace 
Rest In Peace, President George H.W. Bush. President Bush committed his life to service, bravely fighting in World War II, serving in Congress, leading the @cia, serving as Ambassador to the United Nations, and being Vice-President all before leading our nation. He'll be missed.

— Rep. Eric Swalwell (@RepSwalwell) December 1, 2018
President George H.W. Bush was the real deal. We fought but he was gracious enough to accept my apology. Through his daughter Dorothy, my friends Ron Kaufman and Mary Matalin, I got to know him. Rest in Peace #GeorgeHWBush #Hero#WW2

— Donna Brazile (@donnabrazile) December 1, 2018
I'm very saddened to learn of the passing of former President George H.W. Bush. He was a WWII hero who served our country with dignity and heroism. May God bless his soul and family.

— US Rep Brendan Boyle (@RepBrendanBoyle) December 1, 2018
Mr Bush served in the White House from the year 1989 to 1993, for more than 40 years in public service. He was a skilled bureaucratic and is hailed as the World War II hero.