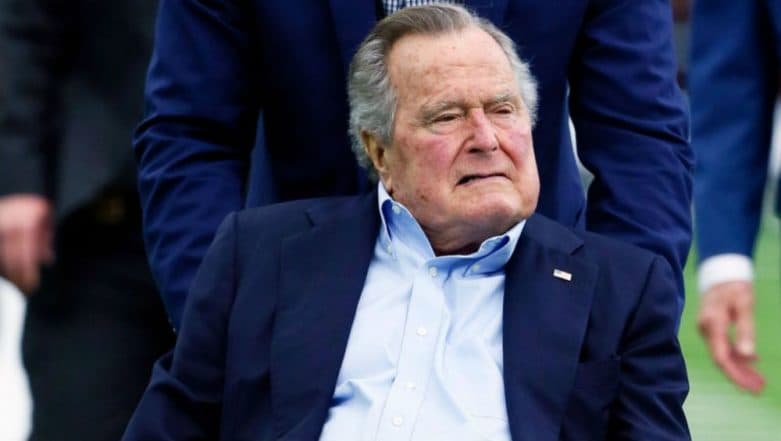 Washington, December 1: Former United States of America (USA) President George Herbert Walker Bush breathed his last on Friday i.e. November 30, according to the family's spokesperson. He was 94. The Former US President was hospitalized at Houston Methodist Hospital in April, one day after the funeral for the former first lady, and remained there for 13 days for ailments related to blood infection. George Bush Senior is survived with his five children and their spouses, 17 grandchildren, eight great grandchildren and two siblings. Former US President George Bush Hospitalised.
George HW Bush, born June 12, 1924, in Milton, Massachusetts, was the forty-first president of the United States. Bush enjoyed a relaxing birthday this year as he became the first former US president to turn 94. Bush has been hospitalized on several occasions for several ailments in recent years, including pneumonia and bronchitis-related cough and other issues. Former US President George H W Bush Hospitalised with Low Blood Pressure. 
Spokesman Jim McGrath confirmed his passing on Twitter with a statement from his son, former president George W. Bush. The statement read: "Jeb, Neil, Marvin, Doro, and I are saddened to announce that after 94 remarkable years, our dead Dad has died. George H. W. Bush was a man of the highest character and the best dad a son or daughter could ask for. The entire Bush family is deeply grateful for 41's life and love, for the compassion of those who have cared and prayed for Dad, and for the condolences of our friends and fellow citizens."
Here's the statement:
Statement by the 43rd President of the United States, George W. Bush, on the passing of his father this evening at the age 94. pic.twitter.com/oTiDq1cE7h

— Jim McGrath (@jgm41) December 1, 2018
Statement by the Office of George H. W. Bush on the passing of the 41st President of the United States of America this evening at 10:10pm CT at the age of 94. pic.twitter.com/XUPgha2aUW

— Jim McGrath (@jgm41) December 1, 2018
Reports informed that Bush, who served as the President of the US from 1989 to 1993, also suffered from Parkinson's disease. He used a motorized scooter or a wheelchair for mobility.  Before serving as president of the US, George Bush Senior was a former U.S. Navy pilot and lieutenant during World War II.
His son, George W. Bush, was elected president in 2000 and served two terms. His other son, Jeb, a former Florida governor had made an unsuccessful bid for the GOP nomination in 2016.