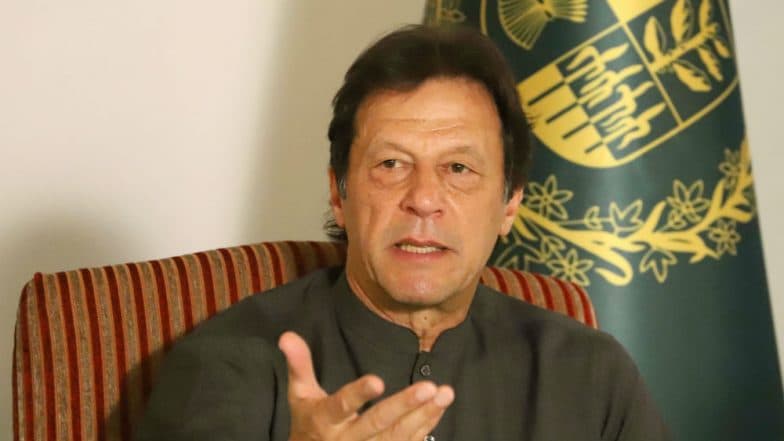 Islamabad, September 11: Pakistan Prime Minister Imran Khan will address a public rally on Friday, September 13, in the Pakistan-occupied Kashmir (PoK) in Muzaffarabad. The rally will be held in the support of Kashmiris, said reports. Pakistan Prime Minister Imran Khan's rally will take place amidst the ongoing session of the UN Human Rights Council (UNHRC) at Geneva. 'Pakistan Knocked on Several Doors, but Entire World Stood With India.'
At the UN Human Rights Council (UNHRC) session discussing Kashmir on Tuesday at Geneva, Pakistan alleged that human rights violation were carried out in Kashmir by the Indian government. India replied by saying that Pakistan has time and again encouraged state sponsored and cross-border terrorism and once again reiterated that Kashmir is India's internal matter. Pakistan Raises Kashmir Issue at UNHRC, Says It Has Been Converted Into Largest Prison; India to Counter.
Pakistan Foreign Minister Shah Mehmood Qureshi on Tuesday levelled serious allegations against India, and said that Kashmir had been converted into the "largest prison" and that Kashmiris were denied access to necessities.
Read Pakistan PM Imran Khan's Tweet Below
I am going to do a big jalsa in Muzzafarabad on Friday 13 Sept, to send a message to the world about the continuing siege of IOJK by Indian Occupation forces; & to show the Kashmiris that Pakistan stands resolutely with them.

— Imran Khan (@ImranKhanPTI) September 11, 2019
When Pakistani delegation led by Foreign Minister Shah Mehmood Qureshi presented their "fabricated narrative" over Kashmir issues in the UNHRC, it was a diplomat from Jammu and Kashmir--Vimarsh Aryan--who rebutted Pakistan's charges with full throttle. Reply to Pakistan's charges, Aryan, first secretary in India's permanent mission to the UN Human Rights Council in Geneva said it was "an ill-disguised effort to advance its territorial ambitions" and Islamabad forgets that terrorism is the worst form of human rights abuse.
Vimarsh Aryan, first Secretary in the Ministry of External Affairs said he had been forced to take the floor to call out the "blatant is a representation of facts and false narrative peddled by Pakistan in all its statements today.""
Pakistani Prime Minister Imran Khan has been raising the issue of Kashmir on every forum he visits. In an earlier rally, Khan had said that Pakistan is ready for their "freedom" of Kashmir after Indian government scrapped Article 370.
Imran Khan said that India is planning operations in the region of Kashmir administered by Pakistan. He added that Pakistan will move to the United Nations, International Court of Justice (ICJ), Organisation of Islamic Cooperation (OIC) and all other global agencies to seek intervention.