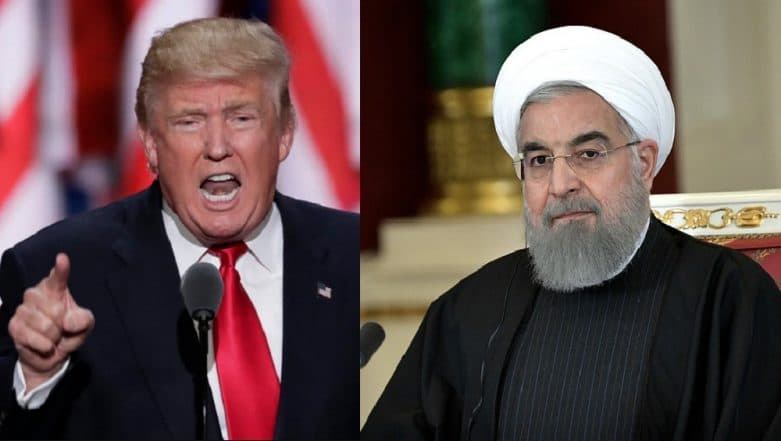 U.S. President Donald Trump has tweeted to Iran's President in all caps – i.e. he has replied to Iran's rhetoric of war with a bombastic reply on his Twitter account. Trump has declared to Iran, "you will suffer consequences the likes of which few have ever suffered before."
The tweet, which was posted on Sunday night, follows an apparent warning issued by Iran's President Hassan Rouhani, in which he cautioned the Trump Administration, saying "you must understand that war with Iran is the mother of all wars and peace with Iran is the mother of all peace," according to Iranian state media reports.
To Iranian President Rouhani: NEVER, EVER THREATEN THE UNITED STATES AGAIN OR YOU WILL SUFFER CONSEQUENCES THE LIKES OF WHICH FEW THROUGHOUT HISTORY HAVE EVER SUFFERED BEFORE. WE ARE NO LONGER A COUNTRY THAT WILL STAND FOR YOUR DEMENTED WORDS OF VIOLENCE & DEATH. BE CAUTIOUS!

— Donald J. Trump (@realDonaldTrump) July 23, 2018
Trump's direct message to Hassan Rouhani comes as the Iranian government has ratcheted up its statements against the U.S. in recent days. Rouhani also said "Do not play with the lion's tail or else you will regret it," reiterating that the U.S. cannot prevent it from exporting its crude oil to the international market. Iran's Supreme Leader Ayatollah Khamenei had just days earlier backed Rouhani's threat of not allowing any oil to pass through the Strait of Hormuz on its southern shore if the U.S. pursues its threat of stopping Iran's oil trade. The Strait of Hormuz is a strategic waterway through which most Gulf nations ship their oil to Asia and the rest of the world.
The Trump Administration after pulling out from the Iran Nuclear Deal has re-imposed economic sanctions on Tehran and has also threatened anyone and everyone to stop their oil imports from Iran by November 4 this year.
Trump's tweet came shortly after U.S. Secretary of State Mike Pompeo delivered a strong speech against Iran's leadership, accusing the clerics that rule the country of using the country's revenue to line their own pockets and fund terrorism at the expense of average Iranians. "The level of corruption and wealth among regime leaders shows that Iran is run by something that resembles the mafia more than a government," said Pompeo.
The speech by Pompeo was made at a large gathering of Iranian Americans. The U.S. Secretary of State's speech is being seen as part of the administration's strategy to increase pressure on Iran's leadership.