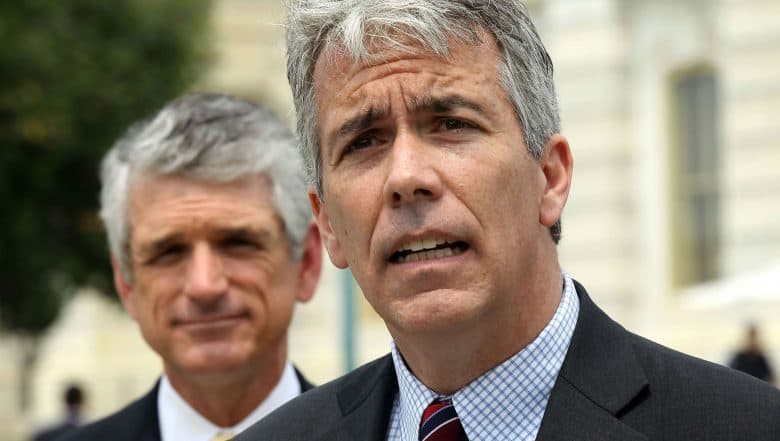 Washington, August 25: Former US Representative from Illinois, Joe Walsh, on Sunday announced his entry into the 2020 Republican Primary, saying that he would do all he can to prevent incumbent United States President Donald Trump as being announced as the Grand Old Party's candidate for the presidential elections.
Walsh, a conservative radio host who has earlier been accused of using rough and racist slurs against opponents, called Trump "nuts", "erratic" and "incompetent" during the course of his media interactions earlier in the day. Donald Trump Says China Wants a Democrat to Win 2020 Election for Trade Deal
Speaking to ABC News, Walsh went onto defy the Republican party line by claiming he would not be voting for Trump if he or any other challenger fails to win the primary.
Trump, he added, is acting against the interests of American national security. "You're running out of time. "But more importantly, these are not conventional times. Look at the guy in the White House. These are urgent times," Walsh said while appearing on the CNN.
Walsh was once a core supporter of Trump ahead of the latter's election to the White House. His perception, however, changed drastically about the US President, following his joint press address with Russian counterpart Vladimir Putin in Finland.
The manner in which Trump ridiculed the American Intelligence's report on Russian meddling in 2016 presidential elections is "where he lost me", Walsh added.
Notably, two Republican heavyweights are among the other major contenders who have already thrown their hat in the fray to prevent Trump from returning to the White House. Former Massachusetts Governor Bill Weld had announced his bid for GOP contendership in April, followed by former Rep. Mark Sanford in July.
Despite their strong pitch, Trump continues to remain the most preferred choice of Republican voters, claim surveys conducted within the conservative section of the electorate. According to Gallup, the President enjoys 88 per cent approval rating among Republican voters.