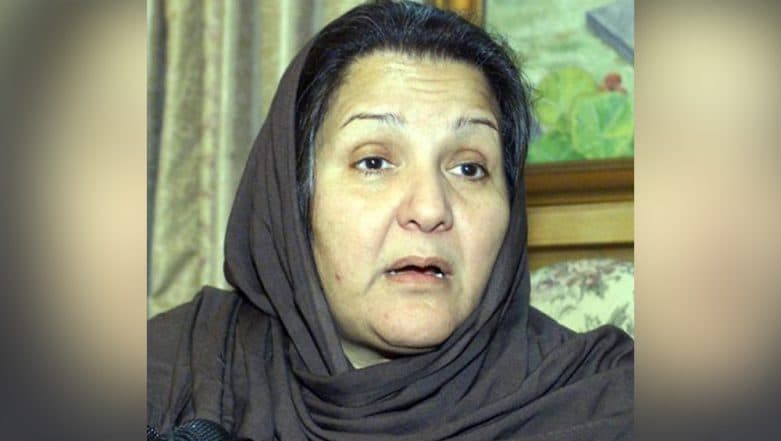 Islamabad, Sep 11: Kulsum Nawaz, the wife of former Pakistan Prime Minister Nawaz Sharif breathed her last on Tuesday in London after a prolonged illness. Kulsum was 68 years old. It must be noted that Nawaz Sharif and his daughter Maryam are currently serving a jail sentence at Adiala Jail in Rawalpindi in connection with a graft case.
Begum Kulsum, who was undergoing a treatment at a hospital in London, was placed on life support last night as her health deteriorated. Reports inform that Kulsum was diagnosed with lymphoma (throat) cancer in August 2017.
According to a report by Pakistan News Agency, Geo News, Pakistan Muslim League-Nawaz President Shehbaz Sharif and her son, Hussain Nawaz, confirmed that the former first lady breathed her last at a clinic in London.
Kulsum Nawaz - wife of former Pakistan PM Nawaz Sharif has passed away in London. She was 68 years old. Nawaz Sharif and their daughter Maryam are currently lodged in Rawalpindi jail: Pakistan media (file pic - Kulsum Nawaz) pic.twitter.com/1K5DVrz1TC

— ANI (@ANI) September 11, 2018
Reports inform that the Harley Street Clinic, where she was undergoing a treatment, confirmed her death. Her mortal remains will be shifted to a mortuary soon, the clinic said. 68-year old Begum was under treatment at London's Harley Street Clinic since June 2017.
The GeoTV report quotes sources at the clinic saying that she had developed a lungs problem again. "She had been responding well without the ventilator until last night," the sources said.