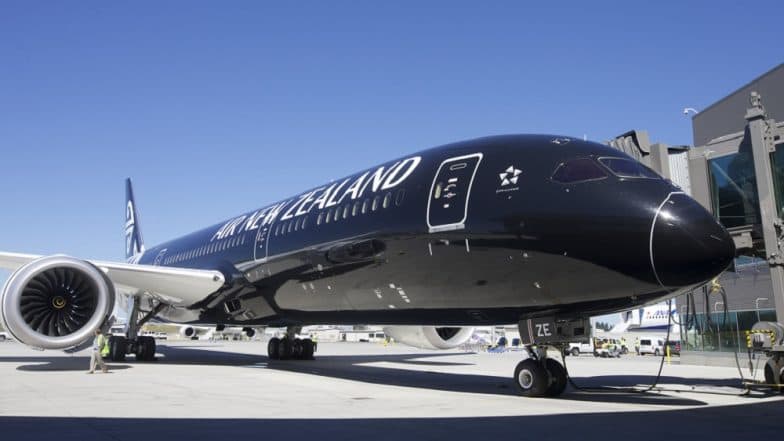 Christchurch, March 15: National carrier Air New Zealand on Friday cancelled at least 17 flights in and out of Christchurch, especially for tonight, following the indiscriminate shootings at two mosques here during Friday prayers that left 49 people dead and many others wounded. Prime Minister Jacinda Ardern dubbed the unprecedented turn of events as "a well-planned terror attack" and said that flight operations will resume after the situation is reviewed again tomorrow morning.
"It is with extreme sadness with which I tell you that almost 40 people have lost their lives with an act of extreme violence. This can now only be described as a terrorist attack. It appears to have been well-planned," the Prime Minister said."It is one of New Zealand's darkest days," she said according to CNN. The Prime Minister further said four individuals have been apprehended. New Zealand Mosque Shooter Shouts Out to PewDiePie in Facebook Live Stream Video; Here's How the YouTuber Responded.
"One of the suspects has publicly stated that they were Australian-born. These are people whom I would describe as having extremist views that have absolutely no place in New Zealand," Ardern said. Police have been working hard to ensure safety for the people moving around the city freely. The defence forces are currently transporting additional police staff to the region, she said.
The Bangladesh cricket team members, who were in New Zealand for the third Test match with New Zealand, had a narrow escape as they were barred from getting off their bus when they arrived to offer prayers at the Al Noor mosque which was attacked. Meanwhile, the Test scheduled to start on Saturday has been cancelled. According to the police, 41 people were killed at Deans Avenue mosque and seven at Linwood mosque while one injured died in hospital.
Several guns have been recovered from both mosques, while, two explosive devices were found on two vehicles at the scene, one of which was defused, the police confirmed. Christchurch hospital alone is currently treating 48 people, from young children to adults, with gunshot wounds. Condemning the terror strike, Ardern noted, "I want to send a message to those directly affected… For many, this may have not been the place they were born. For many New Zealand was their choice, a place they actively came to and committed themselves to … it was a place where many came to for their safety. A place where it was safe to practice their culture and religion."