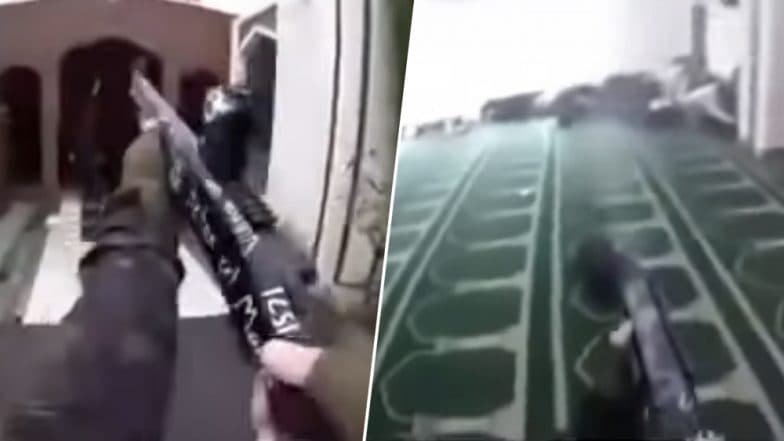 Christchurch, March 15: As many as 49 people were killed after two gunmen opened fire at two mosques in New Zealand's Christchurch city on Friday. The shootings took place at the Al Noor Mosque and Linwood Masjid. One of the gunmen went live on Facebook while opening fire inside a mosque. The shocking video shows the shooter live streaming the shooting from the targeted mosque.
Following the shootings at mosques in Christchurch, New Zealand Prime Minister Jacinda Ardern said one suspect is in custody. "This is one of New Zealand's darkest days. It was an unprecedented act of violence," she said. One shooter is believed to be an Australian. The police urged people in central Christchurch to stay indoors. Police warned worshippers not to visit mosques 'anywhere in New Zealand'. New Zealand Terror Attack: Who Is Brenton Tarrant, The Australian 'Right-Wing Terrorist' Who Live Streamed Christchurch Mosque Shooting?
Police Commissioner Mike Bush also confirmed "multiple fatalities", adding that there was one person in custody "but we are unsure if there are other people". "Again we are unsure if there are any other locations outside of that area. We have mobilised every police resource in the Canterbury location to respond to this and we are also in the process of mobilising every national police resource to keep people safe," Bush told the media. New Zealand Mosque Mass Shooting: Bangladesh Cricket Team Unhurt, Tamim Iqbal Tweets About Safety.
New Zealand Mosque Shootings: 49 Dead, Several Injured in Christchurch Terror Attack (Video):
Apart from numerous witness reports of casualties, a reporter following the Bangladesh cricket team, who is currently in New Zealand, tweeted that the team had "escaped from a mosque near Hagley Park where there were active shooters". Player Tamim Iqbal tweeted that the "entire team got saved from active shooters". Bangladesh Cricket Board spokesman Jalal Yunus said all players were safe. Following the shootings, a Test match between Bangladesh and New Zealand at Hagley Oval scheduled to begin tomorrow has been called off.