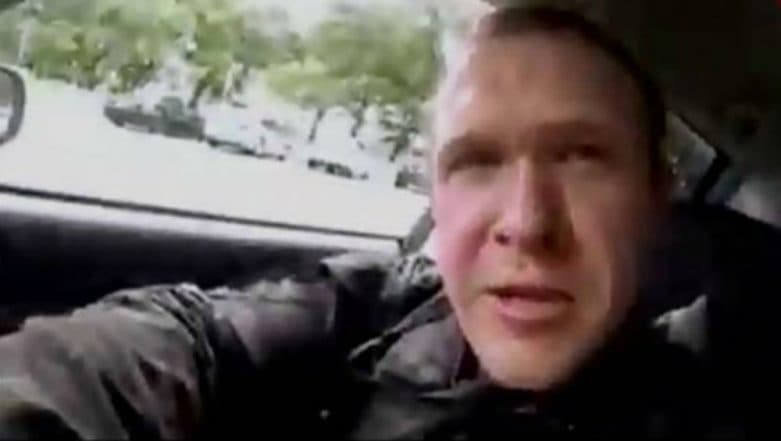 Christchurch, March 15: One of the gunmen, who carried out shooting at two mosques in New Zealand's Christchurch city killing 49 people on Friday, has been identified as 28-year-old Australian citizen Brenton Tarrant. Australian Prime Minister Scott Morrison described Brenton Tarrant as 'an extremist right-wing violent terrorist'. Tarrant live streamed the shooting at a mosque on Facebook and shared a link to what is being described as a manifesto for his actions.
In a 74-page manifesto 'The Great Replacement', believed to have been written by Tarrant, he says his motives include to "create an atmosphere of fear" and to "incite violence" against Muslims. He said victims were a "large group of invaders" who he says "seek to occupy my peoples lands and ethnically replace my own people (sic)". He said he was inspired by Norwegian shooter Anders Breivik. New Zealand Mosque Shooting Was Live Streamed on Facebook by Shooter, Graphic Video Goes Viral.
Tarrant, in the manifesto, posed a series of questions and answers, and opens with one asking: "Who are you?" He then replies: "Just a ordinary White man, 28 years old. Born in Australia to a working class, low income family. My parents are of Scottish, Irish and English stock. I had a regular childhood, without any great issues. I had little interest in education during my schooling, barely achieving a passing grade." New Zealand Mosque Mass Shooting: Bangladesh Cricket Team Unhurt, Tamim Iqbal Tweets About Safety.
Watch Video: New Zealand Mosque Shootings - 49 Dead, Several Injured in Christchurch Terror Attack
He adds: "I am just a regular White man, from a regular family. Who decided to take a stand to ensure a future for my people." He also says he is a racist and eco-fascist by nature. In the document, Tarrant also wrote about the attack on mosques. "I begun planning an attack roughly two years in advance and an attack at the location in Christchurch three months in advance (sic)," he wrote.
Responding to the question whether he supports US President Donald Trump, Tarrant says: "As a symbol of renewed white identity and common purpose? Sure. As a policy maker and leader? Dear god no."