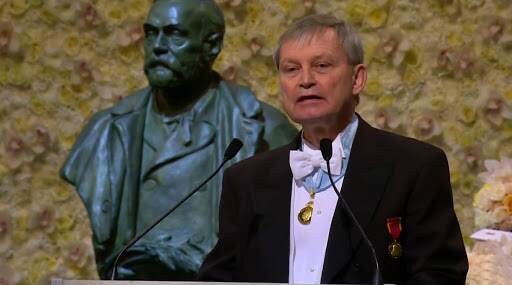 Stockholm, December 10: Months after announcing the names of Nobel laureates in respective sectors, the Swedish Academy on Tuesday is conferring the prestigious awards to the honourable 17 intellectuals in Stockholm. The awards would be given to the laureates for their path-breaking work in the field of physics, chemistry, physiology or medicine, and economic sciences.
Among the people who would be conferred with the prestigious honour would be Peter Handke in Literature, William G Kaelin, Peter J Ratcliffe and Gregg L Samenza in Psychology or Medicine category. Apart from this, India Abhijeet Banerjee, Michael Kremer and Eshter Duflo would also receive their prize in work in economics. Abhijit Banerjee And Wife Esther Duflo Bag Nobel Prize in Economics: List of Married Couples Who Won The Nobel.
The Swedish Academy has gone live with the conferring ceremony on YouTube and here is the link for live streaming:
Apart from literature and Physics, the Swedish Academy will confer the award to Akira Yoshino, M Stanley Whittingham and John B Goodenough for their contributions in Chemistry. For Physics, Jim Peebles, Didier Queloz and Michel Mayor will receive the awards, while the Nobel Peace Prize would be received by Abiy Ahmed.