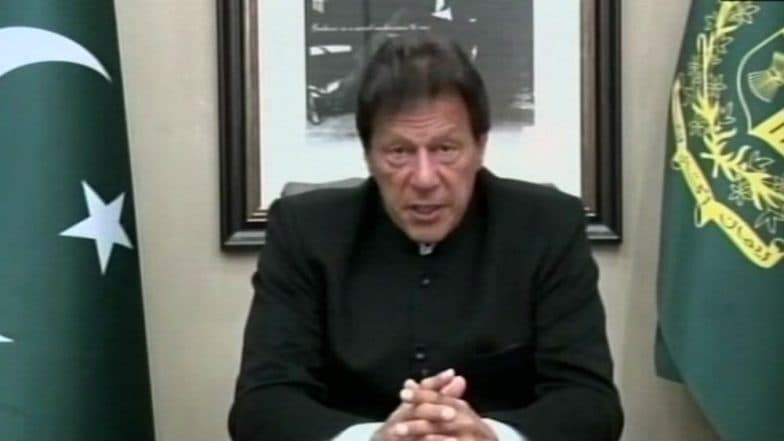 Islamabad, March 5: Pakistan Prime Minister Imran Khan's party Pakistan Tehreek-e-Insaf (PTI) has rebuked a minister for making derogatory remarks against Hindus. Fayyazul Hassan Chohan, Pakistan's Punjab Information and Culture Minister, was called out by Imran Khan's PTI for referring to the Hindus as 'cow urine-drinking people'. The video of Chohan's derogatory comments went viral on social media, with Pakistanis slamming him.
"We are Muslims and we have a flag, the flag of Maula Alia's bravery, and flag of Hazrat Umara's valour. You don't have that flag; it isn't in your hands. Don't operate under the delusion that you are seven times better than us. What we have, you can't have, you idol-worshippers," the Punjab minister, who is also a member of Khan's PTI, was quoted as saying. His comments on Pakistan's minority community did not go well with the government and senior ministers condemned it. Pakistan May Not Oppose Proposal to List Masood Azhar as Global Terrorist: Report.
Shireen Mazari, Minister for Human Rights, condemned Chohan's statement saying, "No one has the right to attack anyone else's religion. Our Hindu citizens have also sacrificed for their country. Our Prime Minister's message is always of tolerance and respect and we cannot condone any form of bigotry or spread of religious hatred." Naeemul Haque, Imran Khan's Special Assistant on Political Affairs, said the PTI won't tolerate such remarks. Pakistan Lie Busted Again! Lockheed Martin Not Suing India For Claiming MiG-21 Shot Down F-16 Fighter Jet.
Watch Fayyazul Hassan Chohan makes derogatory comments against Hindus:
Fayaz-ul-Hasan Chohan, Minister of information & culture in Punjab, Pakistan's most populous province. He is referring to Hindus as "cow urine drinkers" & "idol worshippers". PTI should remove this joker from his post & charge him for discriminating against a religious minority. pic.twitter.com/0hNueDotbb

— Ammara Ahmad (@ammarawrites) March 4, 2019
"The derogatory and insulting remarks against the Hindu community by Fayyaz Chohan, the Punjab Minister demands strict action. PTI government will not tolerate this nonsense from a senior member of the government or from anyone. Action will be taken after consulting the Chief Minister," Haque tweeted. Finance Minister Asad Umar also said that the flag of Pakistan is not just green and it is not complete without the white which represents the minorities.
"Hindus of Pakistan are as much a part of the fabric of the nation as I am. Remember Quaide Azam's whole struggle was for a country free of discrimination," Umar said. The hashtag #SackFayazChohan was trending in Pakistan with people demanding the removal of Chohan.