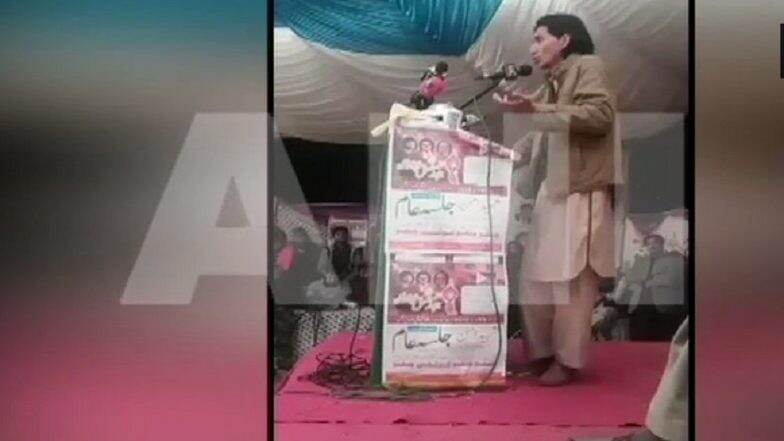 Gilgit, December 05: A massive protest broke out in Hunza, Gilgit Baltistan on Tuesday against Pakistan. The protesters gathered in large numbers to express their anger against the Pakistani government. They were demanding fundamental and constitutional rights. Recently, reports surfaced that people in Pakistan-occupied Kashmir (PoK) continue to face troubles due to the incompetence of the local authorities.
In October, the residents have protested against the doctors of District Headquarter Hospital Kotli over the negligence in the treatment of a female patient. The protesters alleged that doctors removed the woman's uterus without any emergency and she was thrown out of the hospital without any medical treatment. Bus Service Between Pakistan And China Through PoK: India Lodges Strong Protests.
Protests against Pakistan:
#WATCH Massive protest against #Pakistan in Hunza, Gilgit Baltistan, protesters demand basic and constitutional rights pic.twitter.com/PGVzcrWVF3

— ANI (@ANI) December 5, 2018
Meanwhile, earlier in September, Political activists from PoK held a protest in front of the United Nations Human Rights Council against human rights violations and exploitation of water resources by Pakistan. The protestors also demanded Pakistan to dismantle terror infrastructure in PoK. Similar protests took place on September 11 against exploitation of natural resources by Islamabad. In Muzaffarabad, the residents hit the streets to demand Pakistan to stop diverting the waters of the Neelum River to Punjab province.
In May this year,  Pakistan passed an order to include the Gilgit-Baltistan region as its fifth official province. India also lodged a strong protest against this move. The Indian government summoned Pakistan Deputy High Commissioner Syed Haider Shah. China is also eyeing to open a bus service to Pakistan through PoK under the China-Pakistan Economic Corridor (CPEC) project. India is against this move.