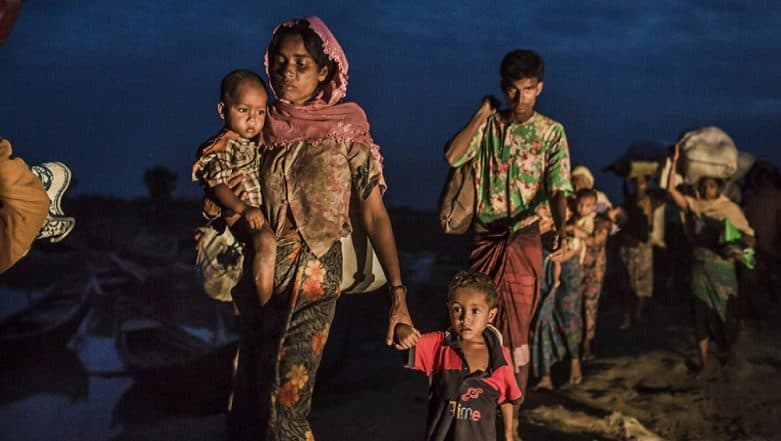 Dhaka, March 31: Nearly a week after gunning down two Rohingya drug peddlers in the refugee-domination region of Teknaf, the Bangladeshi forces have shot dead another alleged narcotic peddler, identified as Rumana Akter. The 20-year-old is the first Rohingya woman to be killed amid the crackdown against drugs launched by Bangladesh since October last year.
A statement issued by the Border Guard Bangladesh (BGB) said the Rohingya woman was killed during a gunfight between security forces and armed smugglers on the Naf river -- the water body on Myanmar border often used by peddlers to transport the narcotic substances. Telangana: 2 Rohingya Drug Peddlers Held in Hyderabad; 1400 Drug Tablets Worth Rs 66,500 Seized
After her body was recovered, the security personnel found nearly 10,000 tablets of "yaba" -- a methamphetamine-based stimulant that translates in Thai as "crazy medicine" -- along with three sharp knives from her bag.
Teknaf, located close to the Naf river where Akter was shot down, has turned into a hub for narcotics trade. Since the crackdown launched by the Bangladeshi forces, over 300 peddlers have been killed. 20 among them were Rohingya refugees.
Rights' group claim that the Rohingya migrants are vulnerable to be used as drug traffickers by the criminal groups based in Myanmar and Bangladesh. Since Dhaka has adopted a liberal approach on immigrants from the war-torn Rakhine region, the drug mafias are using the refugees to expand their illict trade.
Since Bangladesh adopted a strict approach to prevent the trafficking of narcotic substances, rights' group and international observers have alleged violation of human rights of the refugees. On Akter's death, two activists based in Dhaka told news agency AFP that she was not on the list of known drug traders kept by Bangladeshi law agencies.
Meanwhile, the law enforcing agencies have been strengthened to adopt an uncompromising approach, with the government recently passing a law categorising yaba as a "list-A" banned substance -- the trading of which could attract a punishment of death.