Russian President Vladimir Putin unveiled the auto section of a new road and rail bridge linking Russia to the annexed Crimean peninsula on Tuesday, showing utter disregard to Ukraine.
Russian state television showed Putin dressed in jeans and a casual jacket as he drove a Russian-made KAMAZ dump truck in a convoy of vehicles across the 19-kilometre bridge over the Kerch Strait. Some Russians are calling it "Putin's bridge," designed to link Crimea into Russia's transport network.
The bridge that spans the Kerch Strait creates Russia's first land connection with Crimea and, which also ensures a physical affirmation of the region's incorporation into Russia's arms.
At a ceremony broadcast live on state TV, Vladimir Putin, was met by cheering workers on the Crimean side. "At last, thanks to your talent, this project, this miracle, has happened," Putin told the workers.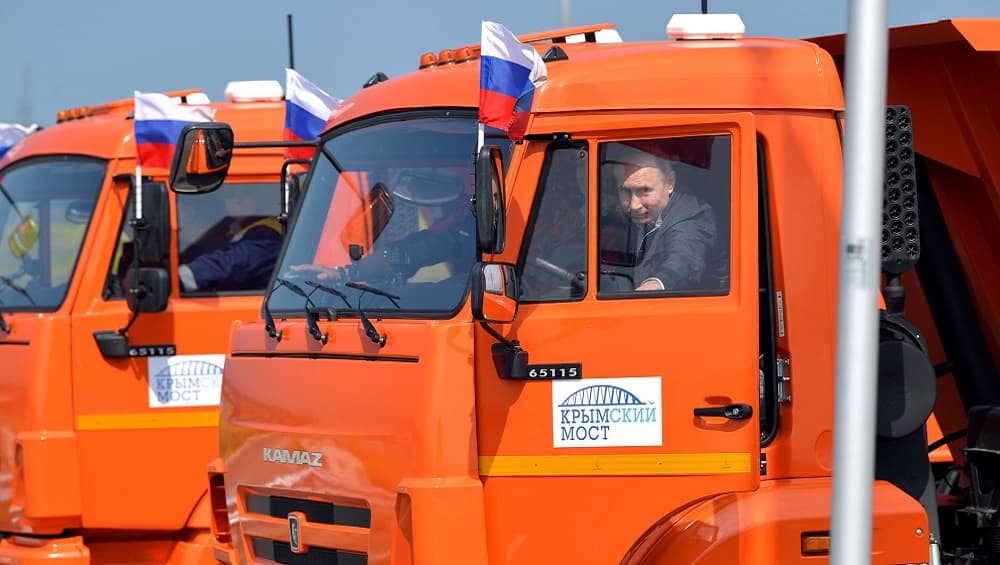 About 11.8 miles long, the bridge is the longest in Europe, linking Russia's southern Krasnodar region to the port of Kerch in Crimea. Crimea's only other land crossing leads into Ukraine and, until now, vehicles traveling from Russia have had to rely on ferries across the strait that are frequently interrupted by bad weather. The bridge is split into two sections, one for vehicles, which Putin inaugurated on Tuesday and another for trains, which is set to be unveiled next year. When a rail section is completed in 2019, according to state media, the bridge will be able to carry 40,000 cars and 47 trains a day.
Costing $3.6 billion, the bridge was a huge undertaking in terms of engineering and price. Previous efforts to bridge the straits in the Soviet period had faltered because of the difficult conditions in the strait, where powerful winds frequently whip up rough seas.
Meanwhile, the Ukraine Government said the move showed contempt for international law. Ukraine's President Petro Poroshenko slammed Putin's action calling it, "The illegal construction of the Kerch bridge is the latest evidence of the Kremlin's disregard for international law." "It is particularly cynical that its opening is happening on the eve of the latest anniversary of the deportation of the Crimean-Tatar people by the Stalin regime," he added.
EuroNews reported that Ukraine claims the bridge will also prevent large ships from passing through to the country's ports on the Azov Sea.
Russia annexed Crimea from Ukraine in 2014, after protests divided the former Soviet territory into pro-EU and pro-Russia camps. Putin's move drew international sanctions and led to a deterioration in ties with the West.