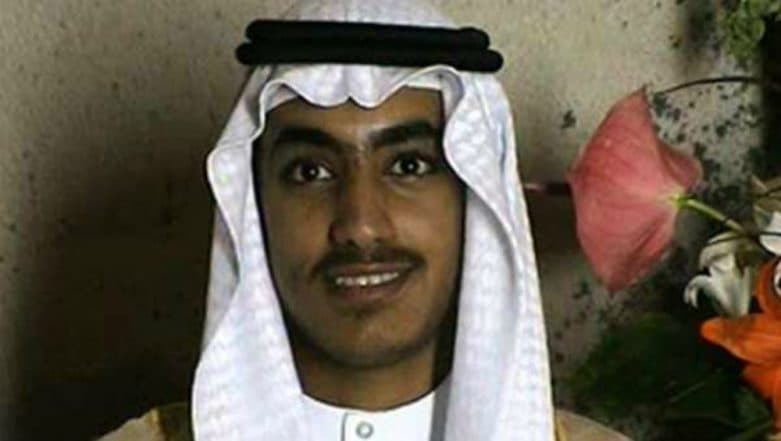 Dubai, March 1: Saudi Arabia on Friday announced that it had revoked the citizenship of 30-year-old Hamza bin Laden, the son of late Al-Qaeda leader Osama bin Laden, who has become a prominent figure in the terrorist network. "Saudi Arabia revoked his citizenship via a royal decree in November", a notice published on Friday by the kingdom's official gazette said. Hamza, Son of Osama Bin Laden, Now Has Bounty of 1 Million US Dollars on His Head.
The official gazette, however, gave no explanation why the order became public now. The announcement comes after the United States government offered a 1 million dollar reward for any information leading to Hamza's capture as a part of its "Rewards for Justice" program. Hamza bin Laden has been emerging as a superior leader of the al-Qaeda terrorist group. His father, Osama bin Laden, was killed in the US military in May 2011. If US Can Do an Abbottabad to Kill Osama Bin Laden, So Can India, Says Arun Jaitley on IAF Air Strike Across LoC at Balakot.
Hamza has been named as a "specially designated global terrorist" in January 2017. He has been releasing audio and video messages calling for attacks against the United States and its allies.
According to the US State Department, letters from Osama Bin Laden seized from his compound in Abbottabad indicated that he had been grooming Hamza, thought to be his favourite son, to replace him as leader of Al-Qaeda. "We do believe he's probably in the Afghan-Pakistan border (sic) and... he'll cross into Iran. But he could be anywhere though in... south-central Asia," said Assistant Secretary for Diplomatic Security Michael Evanoff.