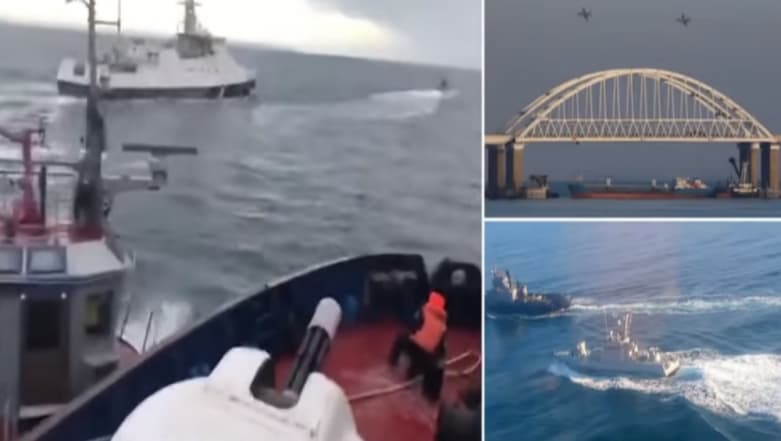 Kiev, November 26: The Ukrainian navy on Sunday accused the Russian army of firing on and capturing three of its ships near the Kerch Strait, a narrow sea passage close to the Crimean peninsula. Al Jazeera quoted the Ukrainian navy saying that two sailors were injured when a Russian ship started firing on the Ukrainian vessels that were later captured by the Russian forces. The incident occurred hours shortly after a large Russian cargo ship was placed beneath the 19km-long Crimean Bridge, constructed over the Kerch Strait, linking the annexed Crimean Peninsula by Russia with the other Russian territories across the Kerch Strait. The Russian cargo ship blocked the passage of all traffic through the Strait.
As reported by Sputnik, early on Sunday morning, the three Ukrainian ships, including two small armoured artillery vessels and a tugboat, illegally entered the Russian territorial waters of the Black Sea, despite warnings from the Russian guards. Following this incident, Russia accused Ukraine of "provocative actions", ignoring its instructions with the aim of stirring up tensions between the two countries. Later, the Ukrainian foreign ministry in a statement denied the allegations saying, "Russia's provocative actions in the Black Sea and the Sea of Azov have crossed the line and become aggressive, " reported Al Jazeera. Russia Denies Involvement in 2014 Ukraine Plane Crash.
"Russian ships have violated our freedom of maritime navigation and unlawfully used force against Ukrainian naval ships," the statement read.
According to reports by Sputnik, a crisis in the maritime region of the Sea of Azov erupted this year after Ukraine detained a Russian vessel, prompting Moscow to boost controls in the area. Tensions further escalated in October when the Ukrainian parliament passed a draft law authorizing Kiev to expand maritime controls an additional 12 nautical miles off its southern coast, purportedly in an effort to counter smuggling in the Black Sea.
The Russian Foreign Ministry warned Ukraine against attempts to revise the status of the Sea of Azov in violation of international law and urged Kiev to refrain from attempting to unilaterally establish new state borders.