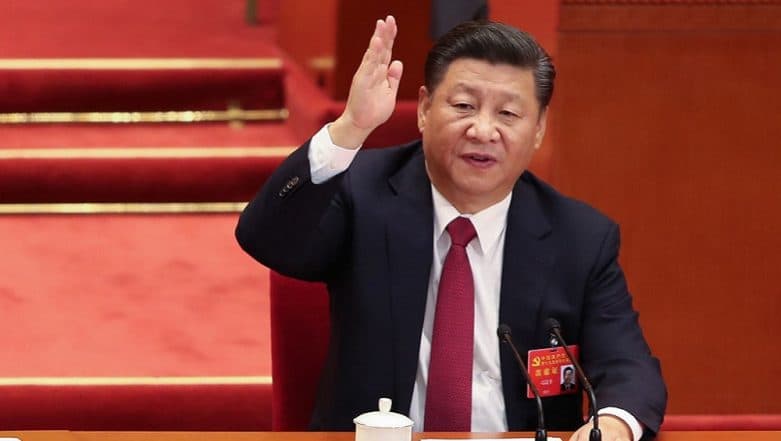 Beijing, March 17: The Chinese parliament on Saturday unanimously re-elected Xi Jinping as the country's president for his second five-year tenure.  The decision to re-elect Xi comes days after scrapping the two-term rule for the president, paving the way for his lifelong tenure.  The Chinese President has also been elected as the head of the powerful Central Military Commission, the overall high command of the Chinese military.
The parliament voted to amend the constitution to remove presidential term limits, this means meaning Xi can stay indefinitely as the President of China. The vote was witnessed by journalists inside central Beijing's Great Hall of the People. Former top graft-buster Wang Qishan, Jinping's key ally has also chosen as vice president of China. After scrapping of the two-term limit for him that makes him China's first leader for life since Chairman Mao Zedong, China is expected to unveil a new government today headed by President Xi.
As per reports, except for Premier Li Keqiang, all top posts including the entire Cabinet beside governor of the central bank will be occupied by a new set of officials.  Reports by PTI inform that all eyes will be on the vice-presidential nominee as the recent constitutional amendment adopted by the rubber stamp parliament - National People's Congress (NPC) - has removed the two-term limit for the president and vice president.
Originally Xi is set to retire by 2023 as head of the CPC, the military and presidency following a two-term limit followed by his predecessors. He became president in 2013. To recall, the two-term limit was adopted by the party after Mao's death to ensure collective leadership to avert mistakes like the dreaded cultural revolution in which millions were killed. The NPC is expected to elect Xi's close Wang Qishan as vice president and unveil a new government under Xi.