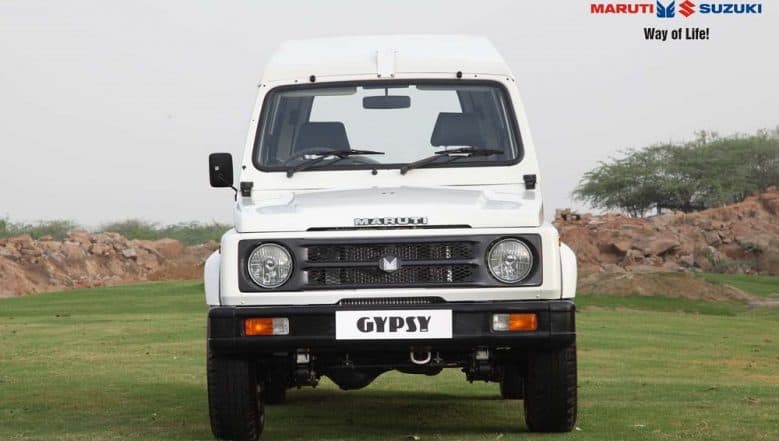 Maruti Suzuki Gypsy is not only an iconic model but also has been one of the oldest models from the Indo-Japanese carmakers. Being into production for more than 34 years, the road for the Maruti Suzuki Gypsy has ended as the company has decided to discontinue the SUV. Though the SUV is listed on the official website, the dealers are instructed to stop taking bookings for the longest-running production car that the country has ever seen from Maruti Suzuki India. As a reminder, the SUV was initially introduced in the year 1985 and was made available on order basis. 2019 Maruti Suzuki Ignis Car With New Safety Features Launched in India; Prices Start From Rs 4.79 Lakh.
This can be confirmed from the picture of an official e-mail that has been doing rounds on the internet, courtesy of TeamBHP. According to the image, the Gypsy will no longer be available on sale in the country. Addressed to the Maruti Suzuki dealers, the email confirms that will be no further production and dispatches of the iconic Gypsy. Thus, the dealers are instructed not to accept any bookings for the model.
As the fact that Gypsy was not able to attract some significant volumes, thus it is unlikely that the company will be looking to update the model. Thus, discontinuing was the only option left as it was unlikely to be updated with the new emission norms. 2019 Maruti Suzuki Baleno Facelift Premium Hatchback Price in India Starts From Rs 5.45 Lakh.
Moreover, the two-door SUV had been an important part of the Indian Army as the fact that it served them for over a decade. Being an ultimate off-roader, the Gypsy was very appreciated for its simplistic yet elegant design as well as all-wheel-drive system. Maruti Suzuki Gypsy was priced in India from Rs 6.22 lakh (ex-showroom, Delhi) and it was offered in both soft as well as hard top variants.