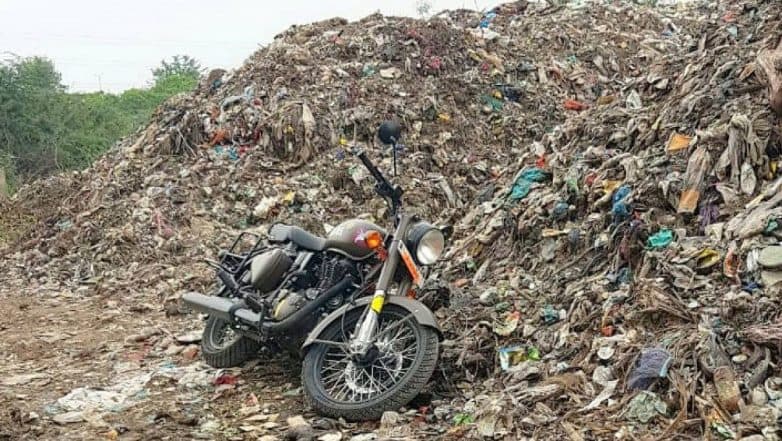 The owners of Royal Enfield Pegasus 500 motorcycles still seems to be dissatisfied with the level of response they have received regarding the issue from RE. The Pegasus 500 saga is now talking a different turn over here. One of the angry owner - named Anuj Singh has went ahead and filed a RTI (Right to Information) application with the Transport Ministry. The owner filed the RTI application to seek answers from the government that why RE was allowed to launch Pegasus 500 motorcycle without ABS or CBS post April 2018 norms. Watch the video below as the owner himself explains the reasons for filing the RTI. Importing Foreign Bikes and Cars to India Could Become Easier as Centre Amends New Vehicle Import Norms.
In the application, the owner has asked the Indian Transport Ministry why the Royal Enfield Pegasus 500 sold in India does not comply with the April 2018 government circular asking all two-wheeler makers to equip their motorcycles with engine displacements above 125cc with ABS.
Everything was going well for the Pegasus owners and Royal Enfield, until the company launched the RE Signals Edition. The new motorcycle was introduced at a lesser price with more features than the Pegasus 500 motorcycle, claims several owners. This further added to the disappointment of the customers. Some of the owners were so disappointed that they went ahead and dumped their Pegasus 500 motorcycle in the garbage. Moreover, one of the owners went ahead to return the bike to the dealership from where it was bought. Second Royal Enfield Pegasus 500 Bites the Dust in the Garbage Dump.
However, there is no clarity on the fact that ABS is mandatory only on a complete new motorcycle launched post new norms. Or, the same norm applies on the new variant introduced post April 2018. It is likely that the former is true as of now, because many manufacturers have introduced new variants of the existing motorcycles with ABS even after the new norms came into effect. The RTI application is expected to clear out all the confusion regarding the same.
The Chennai-based motorcycle manufacturer has already started introducing dual-channel ABS on its new product lineup. The company introduced Classic 350 Signals Edition with dual-channel ABS making it the first motorcycle from RE to feature this safety fitment. Moreover, the company will be equipping its entire product lineup with dual channel ABS as standard by the end of this year.