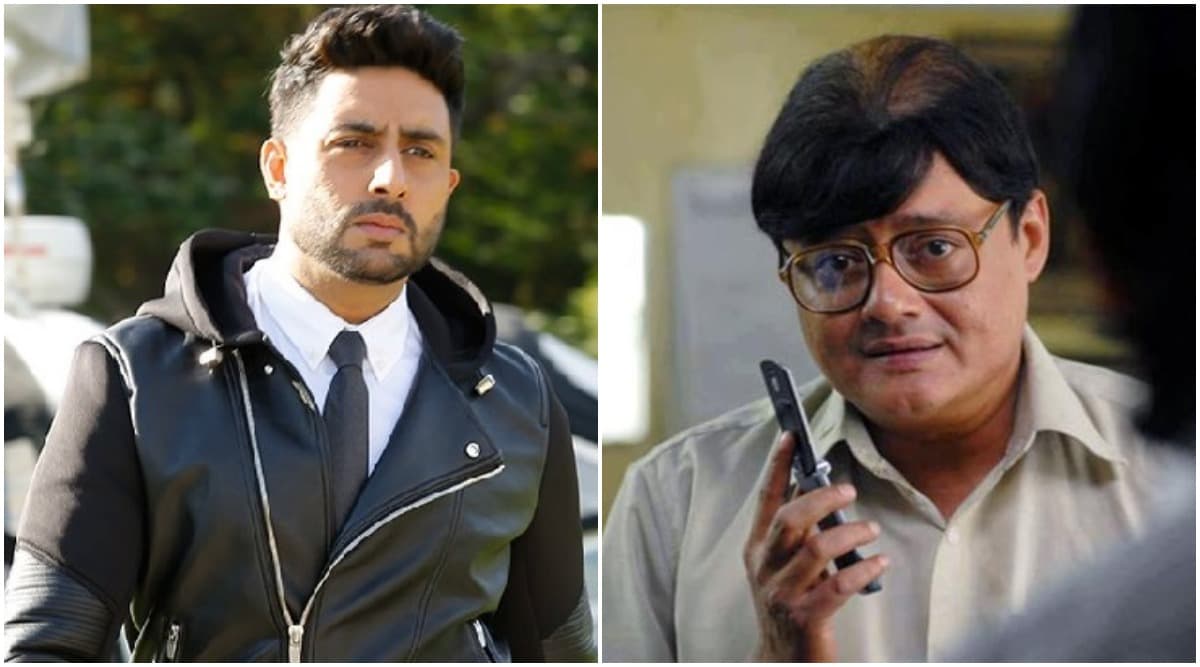 On November 26 Shah Rukh Khan left all his fans with the announcement on the upcoming project, Bob Biswas. While many were waiting to see him in a film, Bob Biswas will not feature him as the lead actor but Abhishek Bachchan. SRK would be co-producing the project through Red Chillies Entertainment with director Sujoy Ghosh's Bound Script Production. While many were happy to know that a film is being made on the cold-blooded contract killer, few were upset over not casting Saswata Chatterjee, the Bengali actor who originally played Bob Biswas in Kahaani. Shah Rukh Khan Turns Producer for Abhishek Bachchan Starrer Bob Biswas, Deets Inside.
Abhishek Bachchan announced the big news via Twitter by posting, "Excited to announce my next film!! Bob Biswas. Can't wait to get started. Working with many favourites. @iamsrk @gaurikhan @sujoy_g @_GauravVerma #DiyaAnnapurnaGhosh". Bob Biswas is expected to be a prequel to the 2012 film Kahaani in which Vidya Balan was seen in the lead. Saswata Chatterjee who essayed the role of Bob Biswas is widely known for his one liner, "Nomoshkar…ek minute". He was shown as an ordinary man, an LIC agent who is a contract killer. His complex character was lauded by the audience. Now, take a look at the tweets posted by movie buffs.
Upset With The Casting Choice
THIS is the only Bob Biswas I know. How dare they try to recreate a menacing creepy murderer as iconic as him! I am offended. #BobBiswas pic.twitter.com/ywPtFLNnNb

— the transponster (@Biblio_phagist) November 25, 2019
Fans Want Saswata Chatterjee
I honestly feel bad for #SaswataChatterjee upon hearing the news of #BobBiswas getting its own spin off! A character, with such limited screen time had such a lasting impact with audiences as the antagonist. I guess it's the sad reality of pitching a scalable film! pic.twitter.com/qMo21PL8RX

— ANMOL JAMWAL (@jammypants4) November 25, 2019
All Support For The Bengali Actor
Nomoskar...ek minute ...what ???#BobBiswas

We want original....#SaswataChatterjee

— Indian_subhadip (@IndianSubhadip) November 25, 2019
Is Nepotism The Reason Behind Such Casting?
Disgusting!! Absolutely disgusting. @juniorbachchan can never ever match the level of #SaswataChatterjee . Nepotism-1, Talent-0.

Never expected @iamsrk to even allow this sort of casting. It's safe to say that @juniorbachchan absolutely ruined an iconic character. :) https://t.co/aSLqrLZJIa

— Uddipan De (@DeUddipan) November 25, 2019
Expectations
#saswatachatterjee did an amazing job, hope Abhishek comes 50% close to that.

— Rajdeep Basu (@raj_1403) November 25, 2019
Fans Are Upset
No grudges against @juniorbachchan. Best of luck for the new film but I hope #SaswataChatterjee is only playing #BobBiswas. If not, I will be highly disappointed.

Best of Luck @gaurikhan @iamsrk @sujoy_g @_GauravVerma #ShahrukhKhan pic.twitter.com/NqD6G36cI7

— Mayukh Ranjan Ghosh (@mayukhrghosh) November 25, 2019
Mixed Emotions
Am so glad that #BobBiswas from #Kahaani is getting his own film. But difficult to imagine anyone else as him other than #SaswataChatterjee! A superb portrayal of a chilling, unforgettable character. He literally stole the show.

— sreeparna sengupta (@sreeparnas) November 25, 2019
Who Else Thinks Likewise?
With all due respect to #juniorbachchan, I think #SaswataChatterjee is the best for the role, #BobBiswas is an eternal character and moreover people admire the character played by Mr. Chatterjee, I don't believe anyone can do justice to the role except he himself.

— Sounak Poddar (@PoddarSounak) November 25, 2019
Bob Biswas will be directed by Diya Annapurna Ghosh. The film would be going on floors in early 2020 and it would also hit the screens in the same year. Stay tuned for more updates from the world of entertainment.