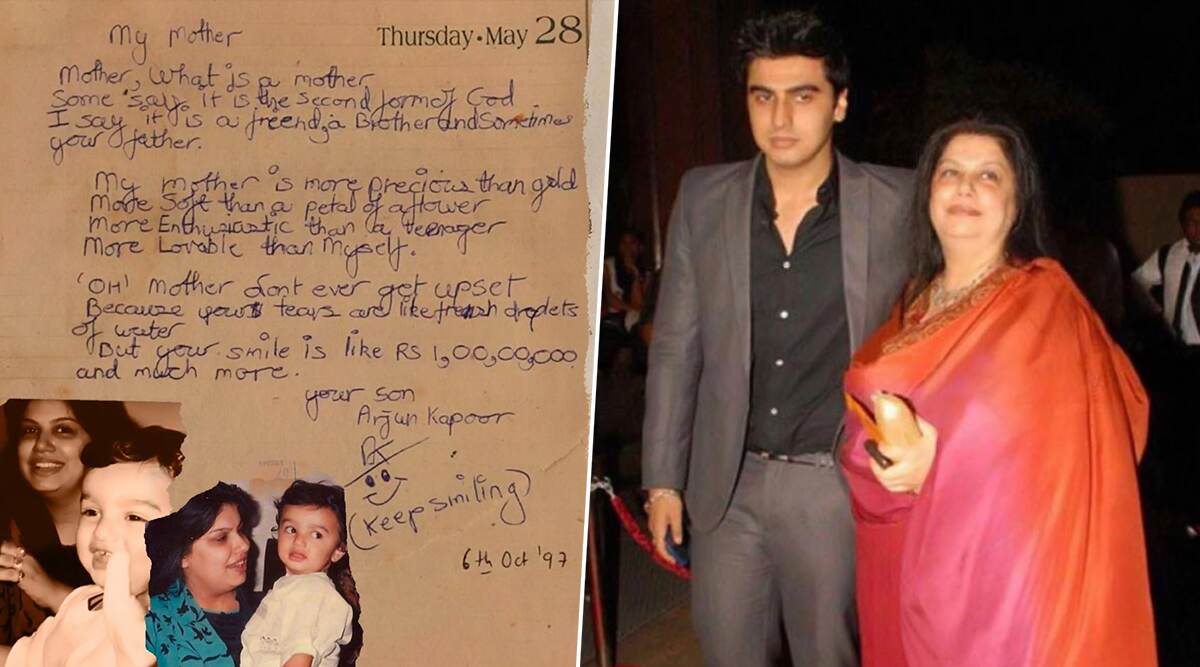 Okayy... get some tissues coz this read is going to be as mushy as it can get. And you can blame it all on Arjun Kapoor, who decided to dig out and share a letter that he had written to his late mother Mona Kapoor, 22 years ago. Well, Arjun, who was only 12 years old at that time, poured out every honest emotion that he could into that letter and we couldn't help get emotional. Arjun who was extremely close to him Mother lost her in 2012 to cancer, but not before the proud momma saw her beta shoot his Bollywood debut Ishaqzaade. Unfortunately, Mona passed away months before Arjun's film released. There have been multiple instances where Arjun and sister Anshula have repeatedly remembered Mona in fond memories. Panipat: Arjun Kapoor and Sanjay Dutt's Historical Saga Worries Afghanistan, Embassy Writes a Letter over Ahmad Shah Abdali's Portrayal
And as they say, one does not need an occasion to remember the one woman is their lives who sacrifices her all to see you succeed. All that being said, today seems like the actor found a treasure in the form of a handwritten letter he wrote for his mother when he was 12 years old.
Taking to social media, Arjun decided to share this very intimate post, a picture of an old letter which expressed the emotions he felt for his mom as a young boy.
Check Out Arjun's Letter Below:
Found this handwritten poem of mine pardon the handwriting though... I wrote this for Mom when I was 12 years old. It's maybe my most purest moment as a child where I felt loved & wanted to thank her for the love she gave me. pic.twitter.com/JjbpxuyakO

— Arjun Kapoor (@arjunk26) November 22, 2019
Arjun's post was followed by a series of tweets as well.
Arjun Misses Her Every Single Day:
I miss her love, I'm vulnerable every morning without it. I didn't have a choice but to accept that I wouldn't have her Love anymore... on most days it feels unfair & it bothers me, it consumes me I feel lost & helpless.... I'm just writing this as a son & nothing more.

— Arjun Kapoor (@arjunk26) November 22, 2019
How He Broke 8 Years Back:
I wish I could hear her call me Beta one more time... I miss her all the Fucking time & it makes everything seem irrelevant more often than not... I broke 8 years back...

— Arjun Kapoor (@arjunk26) November 22, 2019
Life Happens:
Now I wake up trying to fix myself every morning smile at life but honestly that vacuum shall never cease to exist. I don't know why I'm venting but I guess life takes a toll on us because we are human & I confess I am no hero, I am no different it takes a toll on me too...

— Arjun Kapoor (@arjunk26) November 22, 2019
Emotional:
Miss you Mom hope ur happy wherever you are... Love You the mostest...

— Arjun Kapoor (@arjunk26) November 22, 2019
A part of his letter reads, "my mother is more precious than gold, more soft than a petal of flower, more enthusiastic than a teenager and more lovable than myself." Heart-wrenching and how!