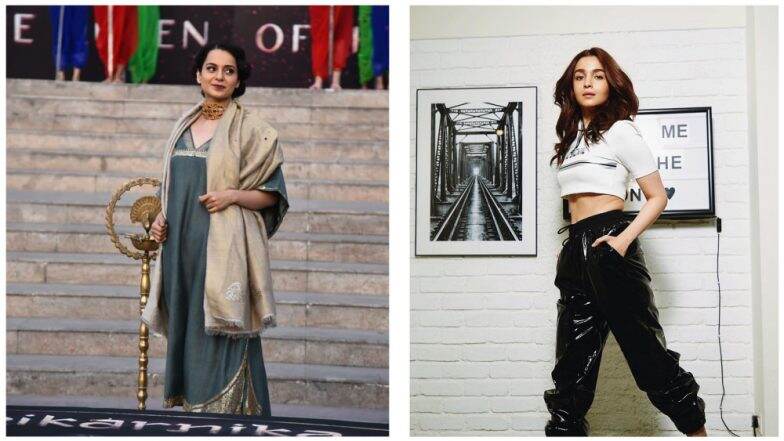 Kangana Ranaut is yet again in her fierce mood to blast all of the Bollywood. She recently starred in Manikarnika: the Queen of Jhansi, a film on Rani Laxmibai. It received a positive response from the audience but the B-town fraternity was tight-lipped about the movie, this whole time, accuses the actress. As per the latest reports by pinkvilla.com, she made a phone call to Alia Bhatt and blasted her asking, why is she quiet on the movie. She also said that she should stop being Karan Johar's 'puppet'! Kangana Ranaut Shoots Another Controversial Statement, Says She Will Expose Each One in Bollywood for Ganging Up on Her.
"I reached out to Alia (Bhatt) and asked her what makes her think Manikarnika is my personal controversy, it's a film whole nation is talking about and wondering why Bollywood is keeping quiet on such a relevant work......I asked her if I can be courteous and gracious to acknowledge her requests for encouraging relevant work that she does, why is she so scared to see my film. I suggested that she grows some spine and support an important film about woman empowerment and nationalism.."
Further, she added, "If she doesn't have a voice of her own and her existence is all about being KJo (Karan Johar) puppet then I don't consider her successful... I told her if she is only focusing on earning bucks and not raise a voice, then her success has no value.... hope she understands the true meaning of success and her responsibilities, Napo gang life is simply restricted to give and take favours hope she rises above that." Manikarnika Box Office Collection Day 14: Kangana Ranaut Starrer Is Steady at the Ticket Windows, Rakes in Rs 84.55 Crore.
Earlier, Kangana had said that Alia did not attempt to watch or even comment on her film where she spoke to her about Raazi and appreciated her. Alia, later on, said that she was not aware of Kangana's controversy as she was busy shooting and that she apologizes to the actress.