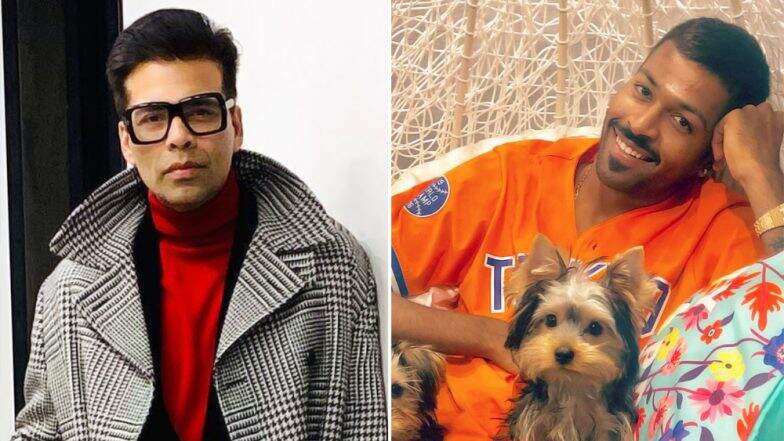 A lot has been said about Hardik Pandya and KL Rahul ever since their Koffee With Karan 6 episode was aired. While everyone on the internet still can't stop bashing the two for their ridiculous statements on the show. Some of the celebrities too have stated how disappointed they are in Hardik including his ex- girlfriend Elli Avram. Now, Karan Johar has finally broken his silence over the Hardik Pandya episode on KWK 6. In an interview with ET Now, Karan has apologized and also cleared his stance on what happened on the show. People have also been saying that Karan did this for the TRP of the show and the filmmaker has an answer for those too. "I feel very responsible because it is my show, my platform and I invited them (Hardik and KL Rahul) as guests so the ramifications and repercussions of the show are my responsibility." This is What Karan Johar Has To Say About Hardik Pandya and K L Rahul Episode on Koffee With Karan Season 6.
He added further, "I have had so many sleepless nights just wondering about how I can undo this damage. Who's gonna listen to me now that it has gone beyond my control? I have to say and I dont defend myself, I have asked the women also those questions... Alia and Deepika were on the show, I'v asked them those questions. I have no control over the answers that come. And post the show, I have a control room of 16- 17 girls, none of them came and told me it was inappropriate. Some told me it was funny, crazy, mad and as a result I did not see this coming."
About TRPs
"I regret what's happening to them. There was also actually talk about me enjoying TRP, I don't care about TRPs. This is a spin- off of my career... this is about their career. I don't care about the ratings and people don't understand that an English language show is never dependent on TRPs. You go on the radar, the top line 500 shows won't show up in comparison to GC rating."
And finally this...
"It is my show and it is sometimes frivolous, sometimes borderline ridiculous irrelevant, candid, stop making sense is our mantra- that;s hour show. I am not justifying the conversation that happened on he show, I think, that perhaps things were said and if it crossed boundaries, I apologize because it was my platform and I feel the boys have already paid the price for it."  Hardik Pandya's Father Comes to His Defence Following Koffee With Karan 6 Controversy.
Watch the full video here-
Karan Johar says he's sorry! Regrets what happened to Hardik Pandya, KL Rahul's careers post their appearance on #KoffeeWithKaran. Catch an #Exclusive chat w/ @SupriyaShrinate as he breaks his silence post the controversy #Davos2019 @hardikpandya7 @klrahul11 @BCCI @karanjohar pic.twitter.com/EgkpWAl19w

— ET NOW (@ETNOWlive) January 23, 2019
We think he does make complete sense here but what we fail to understand is how did his team not find Hardik's statements inappropriate? Well, we leave that up to them. As for now, we think this chapter should be closed for now because we've had enough of Hardik Pandya.