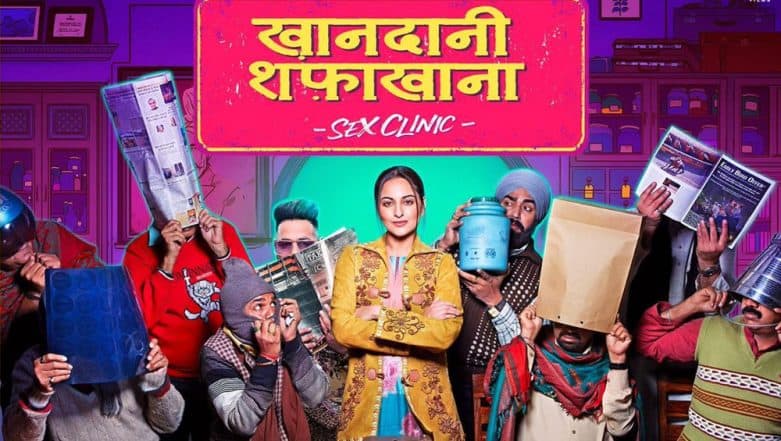 Sonakshi Sinha plays the main lead in this week's release, Khandaani Shafakhana. A comedy, it brings the taboo topic of sex out of the closet by talking about the problems men face in the bedroom. Khandaani Shafakhana also stars Varun Sharma, Nadira Babbar, Kulbushan Kharbhanda and Rajesh Sharma. Rapper Badshah makes his acting debut in the film. Khandaani Shafakhana is produced by Fukrey fame Mrigadeep Singh Lamba and directed by Shilpi Dasgupta. We are watching Khandaani Shafakhana right now and here's what we have to say about the first half: Khandaani Shafakhana's Director & Producer On Defying Stereotypes, Experimenting with Taboo Subjects.
"Baby Bedi is in a dilemma. Her deceased uncle has left her his clinic in his will that, while being in a prime location, can only sold after six months. That too, if Baby regularly runs the clinic. The issue is that it is a sex clinic where men, from local wrestlers to popular rappers come to solve their bedroom troubles. Since sex is still considered a hush-hush subject in our society, Baby is dissauded by her family to do so, and the rest of the people look down upon her. But Baby needs money to solve her money problems and her Khandaani Shafakhana is the only way to solve that.
For a movie that is promoted as a comedy, Khandaani Shafakhana has more melodramatic scenes than moments that induce genuine laughter. The movie takes a while to get the plot running and even when it does, the narrative struggles to make itself interesting. What works here is the earnest performance of the cast especially Sonakshi Sinha and the intrigue about the premise. Badshah who appears for a scene in the first half, looks a decent actor."