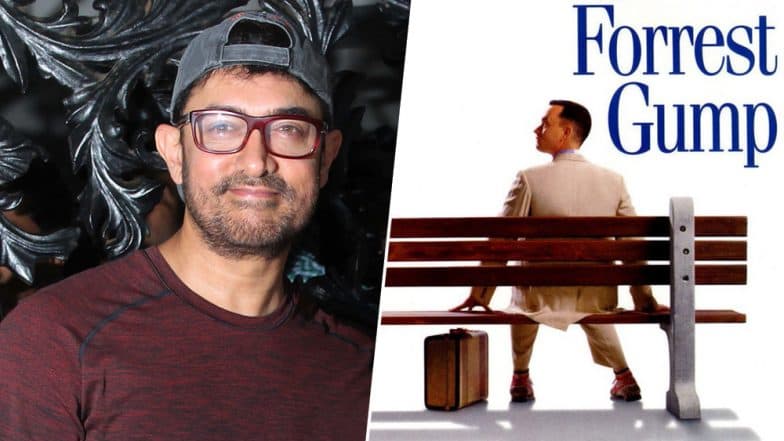 On March 14, as Aamir Khan celebrates his 54th birthday, he made a major announcement that ends all the speculations about the movies he is going to do. Aamir Khan has announced that his next film will be Lal Singh Chaddha that is going to be an official remake of the Hollywood film, Forrest Gump. Lal Singh Chaddha will be directed by Advait Chandan and is written by Atul Kulkarni. Advait Chandan had earlier directed Aamir in the inspiring Secret Superstar. Aamir Khan Confirms His Role as Laal Singh Chadha in an Official Adaptation of Tom Hanks Starrer Forrest Gump, Watch Video.
Now this is not the first time Aamir Khan had acted in a Hollywood adaptation. Some of his popular films have been remakes of English films like Kramer Vs Kramer (Akele Hum Akele Tum), Breaking Away (Jo Jeeta Wohi Sikander), Ghajini (Memento) and so on. So what is it about Forrest Gump that inspired Aamir enough to green-signal the remake? Let's give you some insights about the film,
The Movie
Forrest Gump is a 1994 film directed by Robert Rodriguez which is based on a novel by the same name, written by Winston Groom. The movie is a fictional retelling of certain landmark events in US history in the 20th Century, through the eyes of its lead, a slow-witted Forrest Gump. It is also a tragic love story between Gump and his childhood love, Jenny, the only woman who can make him run against the world.
The Cast
Tom Hanks played the lead, Forrest Gump, in the film. Apart from Hanks, the movie also starred Robin Wright, Gary Sinise, Mykelti Williamson, and Sally Field.
The Trailer
The Accolades
During the 1995 Academy Awards, Forrest Gump won the Academy Awards for Best Picture, Best Director, Best Actor for Tom Hanks, Best Adapted Screenplay, Best Visual Effects, and Best Film Editing. Forrest Gump is featured in many of the lists about most rewatchable movies.