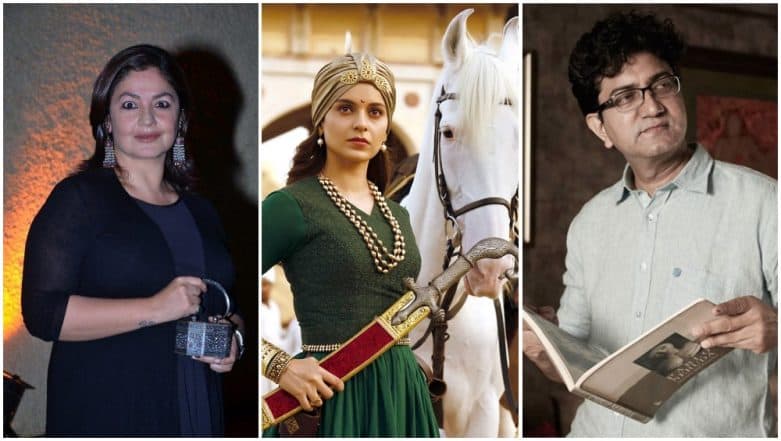 Telugu film-maker Krish came out all barrels loaded against his Manikarnika co-director and lead actress Kangana Ranaut in a couple of revelatory interviews, where he accused her of high-handedness. Krish was on silent mode ever since Kangana took over the reshoots of the film from him and claimed that she shot nearly 70% of the film, hinting that what he made wasn't great. Krish finally broke his silence the day Manikarnika came out in theatres and accused Kangana of taking the credit of making the film, while all she did was add a couple of scenes of her own, and reduce the length of her co-stars' roles. Kangana Ranaut Vs Krish: 5 Shocking Revelations Made by Manikarnika Director Against the Lead Actress!
Most of the Bollywood celebs refused to take a stand on the matter, considering the icy-cold equation many of them share with Kangana. However, Simran writer Apurva Asrani (who had a similar problem with Kangana in the past), actress-producer Pooja Bhatt and director Bejoy Nambiar came out in support of Krish. Pooja and Bejoy even asked Kangana to earn credit of her own work, instead of jumping on other's ride. Manikarnika Controversy: 'Simran' Writer Apurva Asrani Comes Out in Support of Krish in His Verbal Feud Against Kangana Ranaut – Read Tweets.
This is so wrong... on every level... this is not the industry I was born to and not the industry I wish to inherit. Eventually it is credit we work for... money comes & money goes... the first rule of filmmaking is to acknowledge people's contribution. https://t.co/DhpYCTLTUs

— Pooja Bhatt (@PoojaB1972) January 28, 2019
This is just heartbreaking to watch ! No one should have to go through something like this. After #Simran & @Apurvasrani 's episode this is the 2nd time someone is calling her out. EARN your credit & GIVE credit where it's due #KanganaRanaut https://t.co/nkbEynvBXK

— Bejoy Nambiar (@nambiarbejoy) January 28, 2019
In defense of Kangana Ranaut came the CBFC Board Chairperson, Prasoon Joshi, who also wrote the dialogues and the lyrics of Manikarnika. He tweeted that it was Kangana's efforts that elevated the film. Before Krish, This Director Had Accused Kangana Ranaut of Hijacking Manikarnika From Him!
Kangana hasn't only given an outstanding performance she's also elevated thefilm toanother level thru her Direction n commitment.Let not any controversy take that away from her. It's been a tough journey n am all fr celebrating everyone's contribution. Here's 2team #Manikarnika

— Prasoon Joshi (@prasoonjoshi_) January 28, 2019
With Manikarnika doing good business at the box office and also enjoying a decent word-of-mouth drive, everyone is fighting for their share of credit. So which side are you on here?