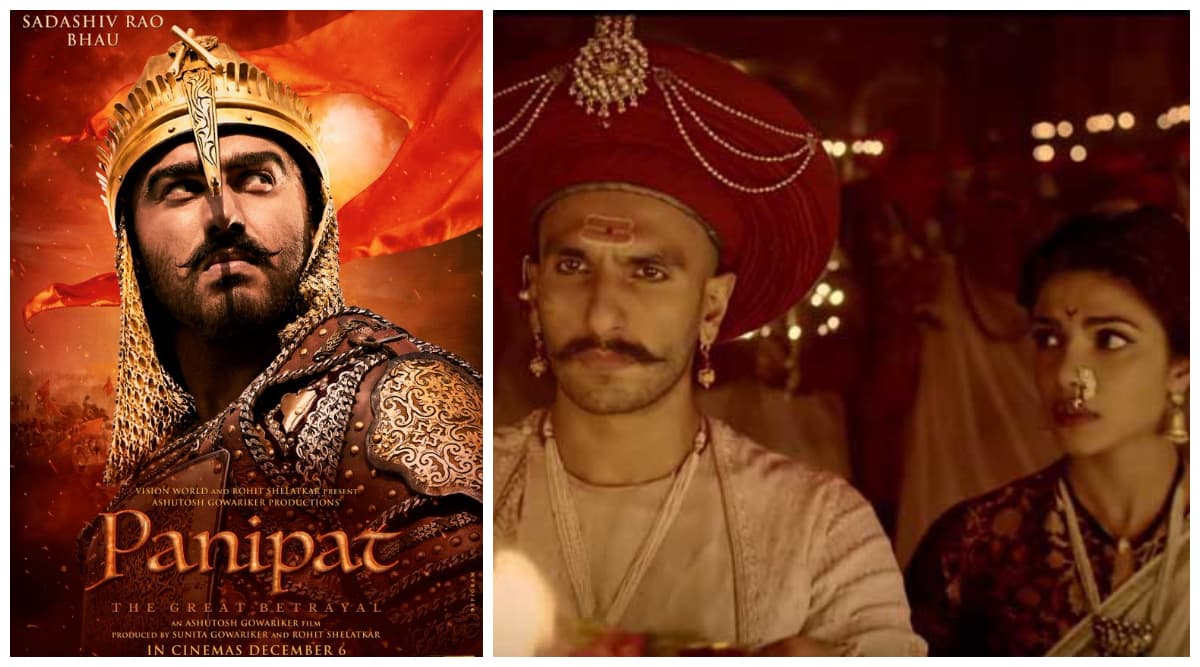 Sanjay Dutt, Arjun Kapoor and Kriti Sanon are all set to come together for Ashutosh Gowariker's upcoming historical war drama, Panipat. The movie is based on the third battle of Panipat that marks an important chapter in the history of India. This is the first time all the three main leads are working with Ashutosh Gowariker who is known for making the Oscar-nominated Indian film, Lagaan. Arjun Kapoor plays the Maratha warrior Sadashiv Rao Bhau, Kriti Sanon plays his wife (second) Parvati Bai and Sanjay Dutt plays the antagonist, Ahmad Shah Abdali, the King of the invading Afghani forces. Panipat: Arjun Kapoor Looks Brilliant as the Fierce Maratha Warrior Sadashiv Rao Bhau (View Pic).
Now we don't really make movies about Maratha warriors in Bollywood much. The last much popular film was Bajirao Mastani, that was directed by Sanjay Leela Bhansali and it came out in 2015. The movie had Ranveer Singh, Deepika Padukone and Priyanka Chopra in the lead roles and was a huge success at the box office. In that film, Ranveer Singh had played Peshwa Baji Rao I, Priyanka Chopra his wife Kashibai and Deepika Padukone, his lover Mastani.
Now the students of Indian history will know that there is a big connection between Sadashiv Rao Bhau and Peshwa Baji Rao, which is not just the kingdom they are fighting for, but their bond is within the family. Panipat: Kriti Sanon's First Look as 'Parvati Bai' is Utterly Charming and Very Royal (View Pic).
Sadashiv Rao Bhau is actually the nephew of Peshwa Baji Rao, who is the son of the latter's younger brother Chimaji Appa. In Bajirao Mastani, we had seen the character of Chimaji Appa, who was played by the Marathi actor Vaibhav Tatwawaadi. Sadashiv Rao was just 10 years old when Baji Rao passed away in 1740. So we are not sure if the character of Baji Rao would appear in Panipat. Though it would be a really cool idea to have Ranveer and Priyanka make cameos in the film, and connect Bajirao Mastani with Panipat.
Sadashiv Rao had his first battle campaign in 1746, and in the years ahead, he was made the Diwan of Peshwa. Like his uncle, Sadashiv Rao was also a dauntless warrior and a smart tactician who helped expand the Maratha empire. Though, his illustrious life came to an end in the Third Battle of Panipat, where he was killed in action. This is a story that deserves to be told on the big screen. Panipat: Sanjay Dutt Looks Fierce in his First Look as Ahmad Shah Abdali (View Pic).
Interestingly, Shamsher Bahadur, Baji Rao and Mastani's son, had also fought in the battle along with his cousin, and got fatally injured, dying a few days later.
Even the actors playing the lead characters in Bajirao Mastani and Panipat share a great bond off-screen. Arjun Kapoor and Ranveer Singh are related distantly, and are also really good friends. They have also worked together in Gunday, which also starred Priyanka Chopra. Arjun had also romanced Deepika Padukone in the film, Finding Fanny, that had Ranveer Singh in a cameo.
Returning to Panipat the movie, it is releasing on December 6, 2019. The movie also stars Padmini Kolhapure, Zeenat Aman, Mohnish Bahl, and Milind Gunaji.